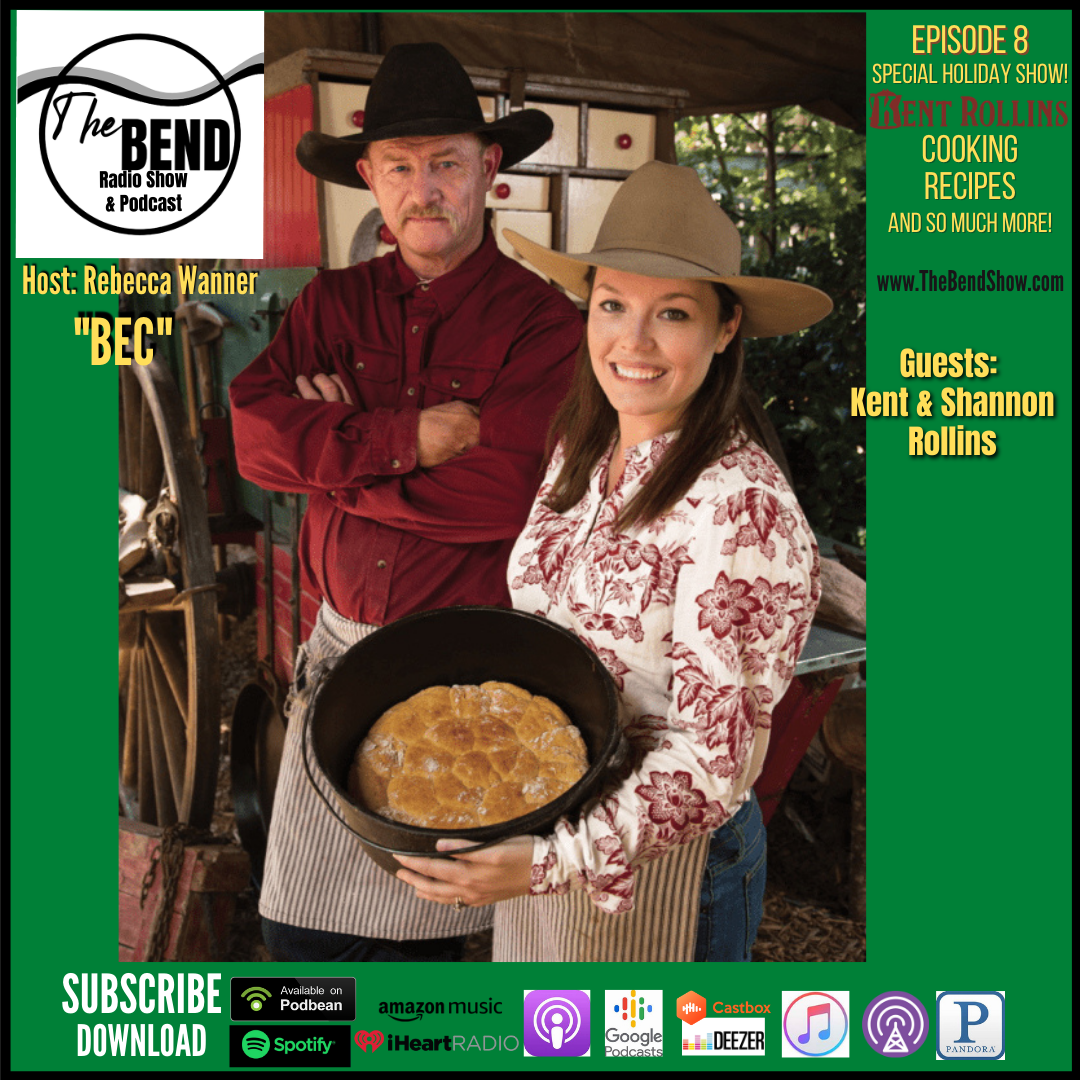 We have some warm holiday wishes from the gang. Wanting to cook up something different this yuletide season? We have some options on this special Christmas episode! And remember to catch Bec if you can on The Bend!
HOLIDAY COOKING
Meet Kent Rollins and his wife Shannon on this heartwarming episode. This husband and wife duo are known for funny social media antics to inspiring us to become dutch oven masters of the bbq, smoker or cooking over the open fire. Enjoy how they remind us of what is most important at our family gathers and to appreciate one another. This truly is a reflection of how we should all aspire to work with one another, keep our loved ones close and enjoy sharing our cooking with everyone.
Every year, especially during Christmas, both Rebecca Wanner aka BEC and Jeff Tigger Erhardt enjoy sharing their love with others thru food. Food is the one thing that can bring family and friends together. Tigger & BEC greatly understand that often we are too busy in life and making food for other is a way to checkout of daily hassles and reflect instead on what matters most in life. Making Memories.
About Cowboy Kent Rollins
Cowboy Kent Rollins is a genuine cowboy who has been cooking up a storm for over 30 years. He is known for his authentic cowboy cooking style, delicious recipes, and entertaining personality. Cowboy Kent Rollins was raised on a ranch in Oklahoma, where he learned how to cook from his mother and grandmother. He has been cooking on the open fire since he was a child, and his authentic cowboy cooking style is a reflection of his upbringing. Rollins is a true pioneer of cowboy cooking. He has a passion for cooking that is evident in every dish he prepares. Cowboy Kent Rollins has been featured on numerous television shows, including the Food Network's "Chopped Grill Masters," and "Throwdown with Bobby Flay" and many others. He's released three cookbooks, one of which was just released called, Comfort Food the Cowboy Way. You can learn more about Kent and order his latest cookbook at KentRollins.com. You can also check out Kent Rollins' YouTube Channel here. 
Field Reports or Comments
Call or Text your questions, comments and Field Reports: 305-900-BEND or 305-900-2363
Or email [email protected]
FOLLOW Facebook/Instagram: @thebendshow
SUBSCRIBE to The Bend YouTube Channel.
Website: TheBendShow.com
#catchBECifyoucan #tiggerandbec #outdoors #travel
The Outdoors, Rural America And Conservation are Center-Stage.
AND how is that? Because Tigger & BEC… Live This Lifestyle.
Learn more about Jeff 'Tigger' Erhardt & Rebecca Wanner aka BEC here: TiggerandBEC.com
The Bend is a
Nationally Syndicated Radio Show
& on your favorite podcast player!
Subscribe, play, & listen!
More Episodes For You To Catch!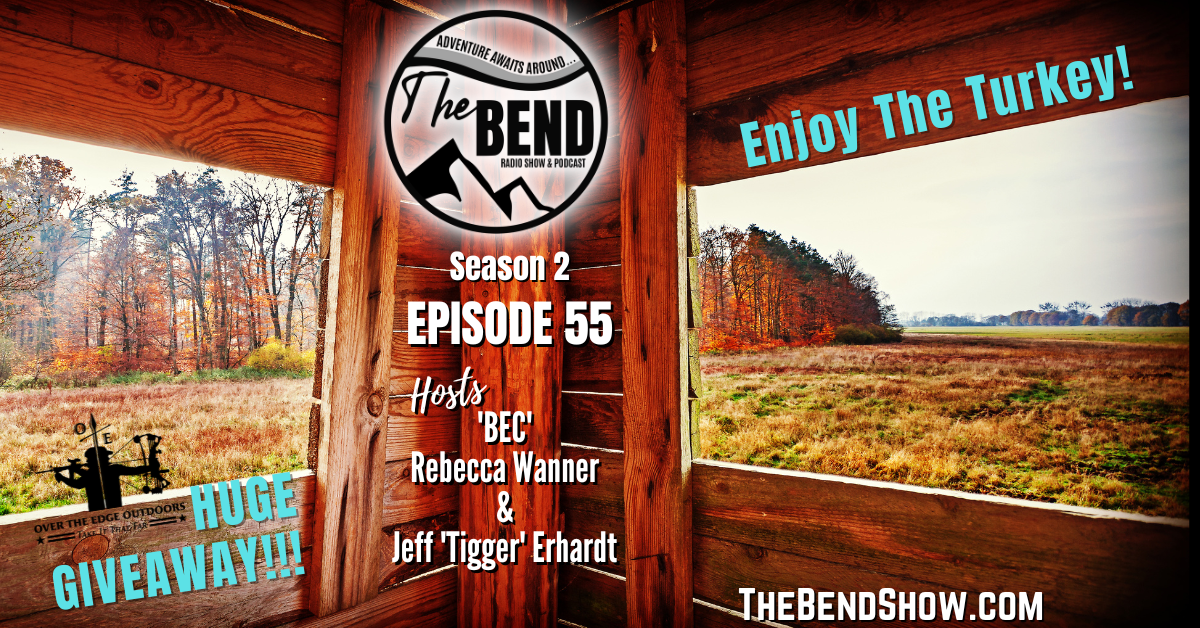 The holidays are upon us and we have the essentials to check off your list to make hosting a breeze while still enjoying Turkey. This is Rebecca Wanner aka BEC with the Outdoors radio show "The Bend"! We have more details on how you can nominate a veteran for an adventure giveaway plus outdoor news and fun stories only heard here.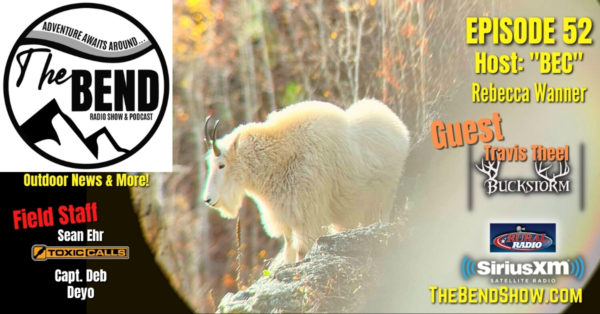 The call of the wild is in all of us. Backcountry to coastlines to canyons, we talk about satellite GPS apps for your mobile devices that will aid your hunt, expedition and keep you safe. The Bend Field Staffers share updates and remember to submit those Outdoor photos. Winner will be announced!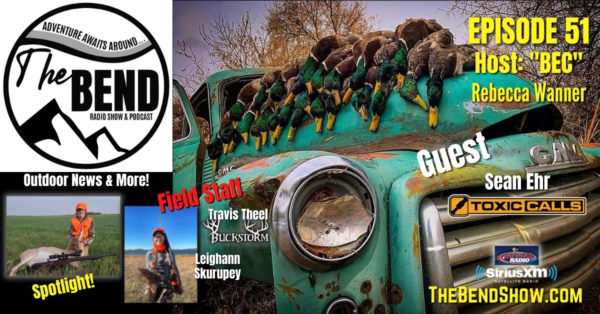 Have you tried waterfowl hunting? We give it a try and learn about certain duck and goose calls. The team spotlight's a youth that made the most out of his recent family hunting trip. We have the latest outdoor news, field staff updates and even details on a new contest.