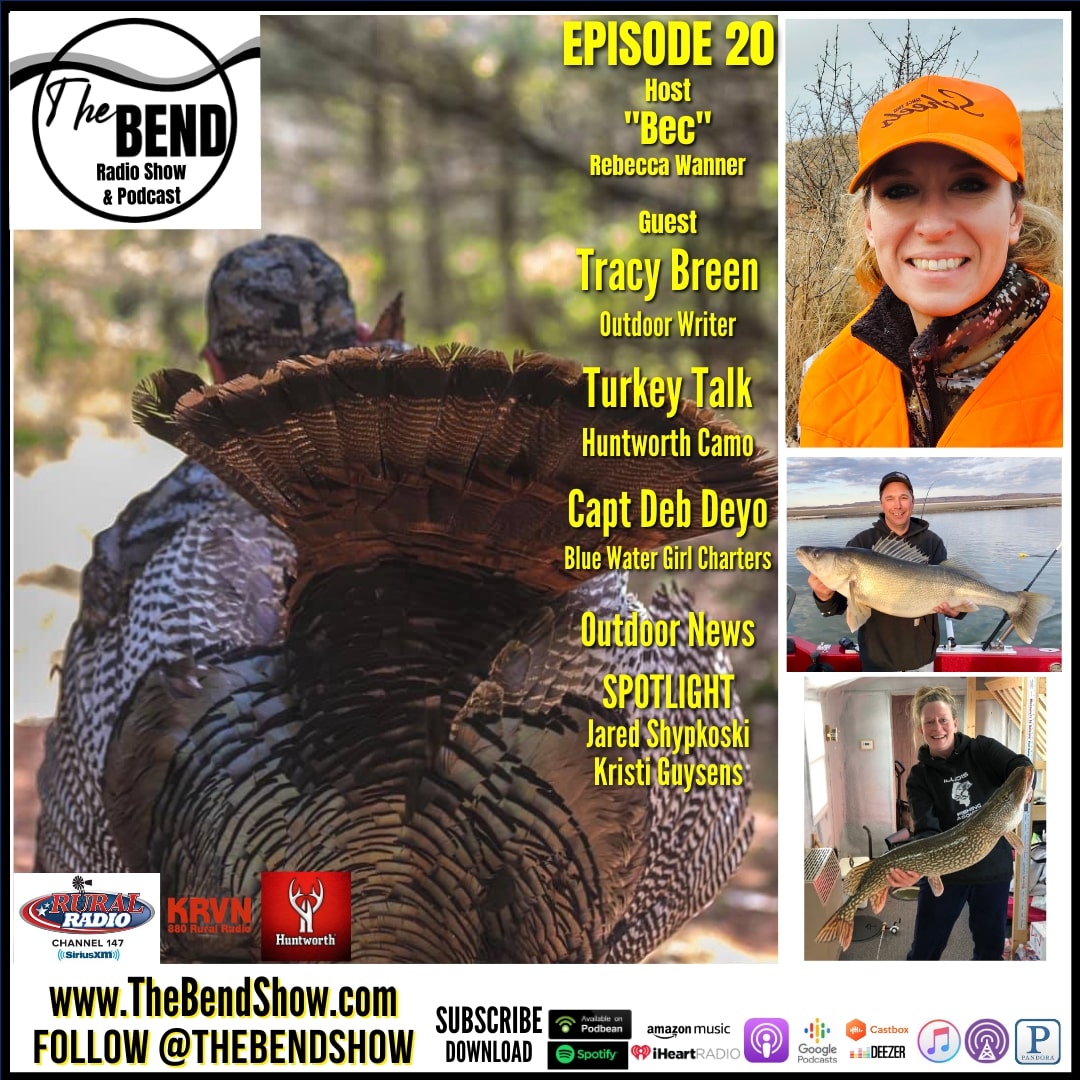 Nothing can stop you when you put your mind to it and it's probably one of the coolest jobs in the outdoor industry. Turkey season opens across the land and we talk Huntworth Clothing. All this and so much more, this is Rebecca Wanner aka 'BEC' and Jeff 'Tigger' Erhardt with the radio show The Bend Radio Show & Podcast, your news outlet for the latest in the Outdoors & Western Lifestyle!
MIND OVER MATTER
Guest: Tracy Breen
Public Speaker & Published Author: Bowhunting Magazine, Bass Pro Expert, Western Hunter, Bowhunting.net, & More!
Hear the amazing story firsthand from this inspiring outdoorsman who was dealt a hand of cards. Tracy Breen has cerebral palsy, however, the strides he has made in the outdoors world, leaving an imprint on all who enjoy his articles to hearing him speak; will leave you realizing the potential we all hold in our hands to overcome hurdles.
HUNTING CLOTHING
Spotlight: Huntsworth
BEC and outdoors expert Tracy Breen discuss clothing for turkey hunting and more. Hear why Huntsworth Gear may be the fit for your upcoming hunt. From a female standpoint, BEC has tried many brands of hunting clothing. As she is a tall woman, there has been difficulty finding clothing to fit while still remaining "utilitarian". All of her gear has been self-purchased, and she has been finding success in both fit and pocket locations as well as being able to move comfortably while meeting a friendly price point led to the discussion regarding Huntsworth Gear offerings. Hear the thoughts of these experts on camo that might lead you to a happy harvest.
BIG FISH
Jared Shypkoski of Dickinson, North Dakota – Landed a 16-pound, 6-ounce walleye March 13, 2021; and has officially been named the North Dakota State Record Walleye.
Kristi Guysens – Reeled in a personal best! Congrats!
FLORIDA FIELD REPORT
Captain Deb Deyo, owner of Blue Water Girl Charters – Spring is upon us and what to know when heading to Florida fishing this time of year. To book a trip with Capt. Deb Deyo; call (305) 896-3768 and follow her on social media!
FIELD REPORTS & COMMENTS
Call or Text your questions, or comments to 305-900-BEND or 305-900-2363
Or email [email protected]
#catchBECifyoucan #tiggerandbec #outdoors #travel #cowboys
The Outdoors, Rural America, And Wildlife Conservation are Center-Stage.
AND how is that? Because Tigger & BEC… Live This Lifestyle.
Learn more about Jeff 'Tigger' Erhardt & Rebecca Wanner aka BEC here: TiggerandBEC.com
WESTERN LIFESTYLE & THE OUTDOORS
Tigger & BEC are News Broadcasters that represent the Working Ranch world, Rodeo, and the Western Way of Life as well as advocate for the Outdoors and Wildlife Conservation.
Outdoorsmen themselves, this duo strives to provide the hunter, adventurer, cowboy, cowgirl, rancher and/or successful farmer, and anyone interested in agriculture with the knowledge, education, and tools needed to bring high-quality beef and the wild game harvested to your table for dinner. They understand the importance in sharing meals with family, cooking the fruits of our labor and fish from our adventures, and learning to understand the importance of making memories in the outdoors. Appreciate God's Country.
United together, this duo offers a glimpse into and speaks about what life truly is like at the end of dirt roads and off the beaten path.
Tigger & BEC look forward to hearing from you, answering your questions and sharing in the journey of making your life a success story. Adventure Awaits Around The Bend.
REFERENCES
The Bend is a
Nationally Syndicated Radio Show
& on your favorite podcast player!
Subscribe, play, & listen!
More Episodes For You To Catch!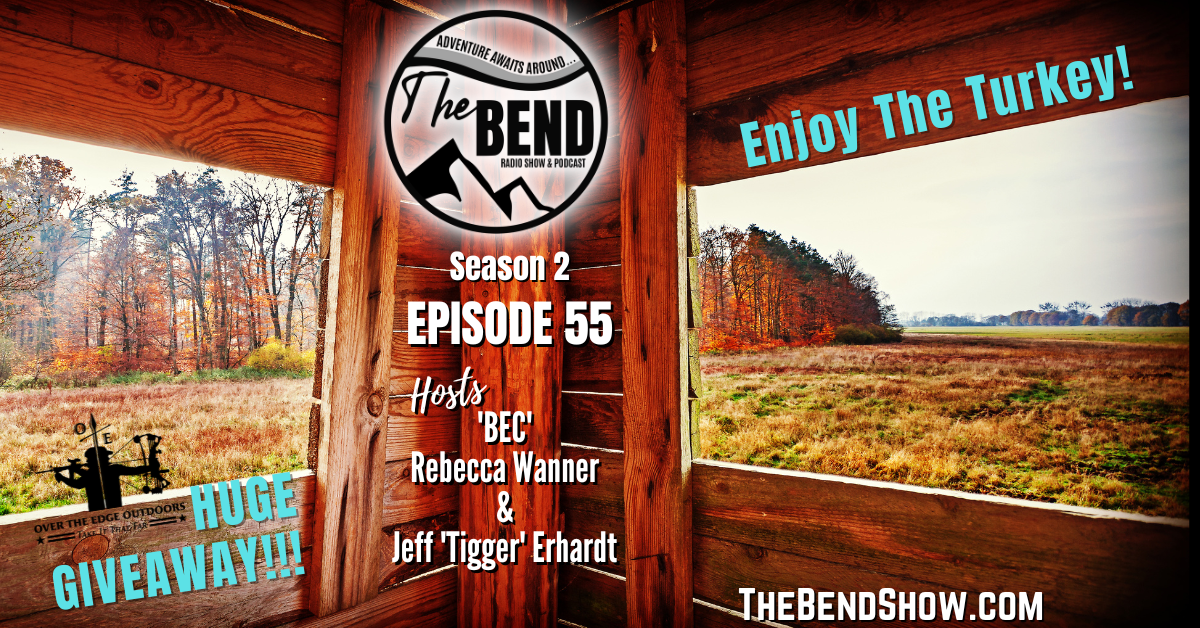 The holidays are upon us and we have the essentials to check off your list to make hosting a breeze while still enjoying Turkey. This is Rebecca Wanner aka BEC with the Outdoors radio show "The Bend"! We have more details on how you can nominate a veteran for an adventure giveaway plus outdoor news and fun stories only heard here.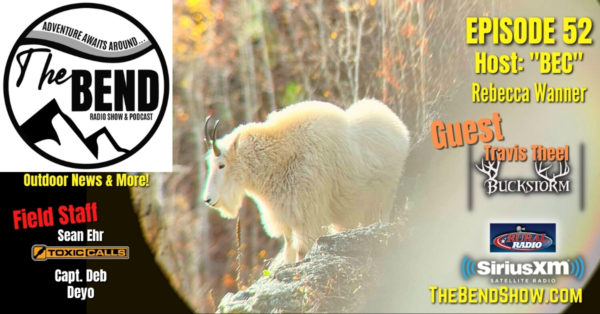 The call of the wild is in all of us. Backcountry to coastlines to canyons, we talk about satellite GPS apps for your mobile devices that will aid your hunt, expedition and keep you safe. The Bend Field Staffers share updates and remember to submit those Outdoor photos. Winner will be announced!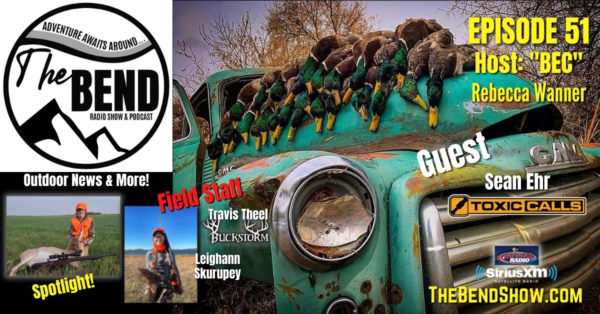 Have you tried waterfowl hunting? We give it a try and learn about certain duck and goose calls. The team spotlight's a youth that made the most out of his recent family hunting trip. We have the latest outdoor news, field staff updates and even details on a new contest.