Has the thought of living life in an RV ever crossed your mind? We visit a retired man, boondock camping his way across the lower 48 states. This is Rebecca Wanner aka BEC and Jeff 'Tigger' Erhardt with The Bend Show, your Outdoors & Western Lifestyle radio show for the latest news headlines. Plus we have Fourth of July must-have food trending treats! Be sure to tune into The Bend Show! Be sure to subscribe on your favorite podcasting app or on 
The Bend Show YouTube channel.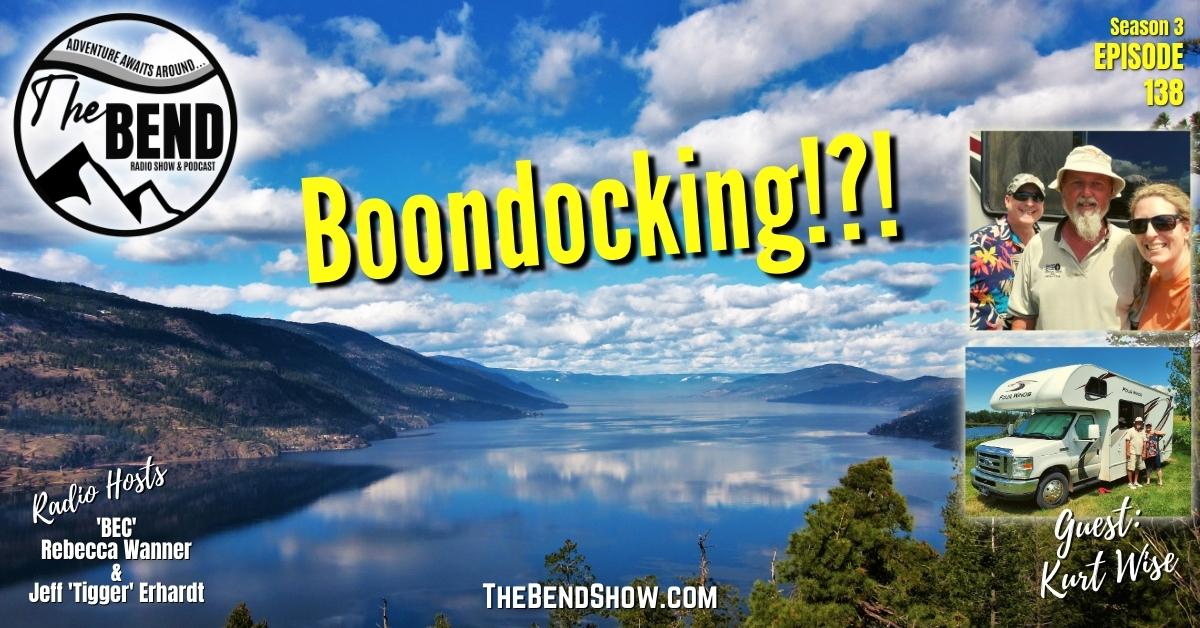 EPISODE 138 DETAILS
BEC & Tigger share how the Outdoors and the Western Lifestyle go hand in hand. One of the only national news broadcasting couples, not only brings the latest headlines but also shares how their life is similar to many. 
A recent incident the couple had happened on their ranch is shared. Our host, BEC, tells us how we never are too old or seasoned to have a "rookie mistake". After a typical day of hauling a long distance, pulling a 30-foot stock trailer, it was after a Long Day that she forgot the simplest of things. Tigger jumps in to share how BEC delivered horses home, however after unloading horses and being hot, and sweaty; BEC jumped into the pickup to move the trailer to unhook the rig only to forget to close the back trailer door! With Tigger running across the pasture, frantically waving and yelling; did BEC then realize her mistake. Thankfully the trailer and door were not wrecked but laughed saying, "Yup – we're never too good to not have a 'rookie mistake' and that we love our 'working pen woes'. As Tigger chimes in that they keep life real by working out relationship issues 'On-Air'. The Bend Show kicks off with laughs!
SPOTLIGHT
Road trips! Who doesn't love Road Trips?! A new survey by Hi-Chew reveals that 66% of people say SNACKS can make or break a road trip. What says you?? I can completely agree with that!
And get this 71% of people say road trips give them a hall pass to eat as many snacks as they like. 
Lastly, it's almost a 3-way tie when breaking down a road trip on the "Best Parts" of a road trip. 
The snacks, The company traveling with, and the stops along with way!!! 
Now for that reason to "Road Trip"… Last week we shared that The Bend Show was giving away a pair of tickets to hear & see true American cowboy, former saddle bronc rider Chancy Willams as he kicks off the start of the historic 144th Annual Mandan Rodeo Days in North Dakota. Chancy Williams will be joined by the country duo Southerland and country artist Zach Thomas.
Considered the oldest continuous rodeos, the Mandan Rodeo Days are three full days of PRCA top notch rodeo action held at the all-new Dale Pahlke Rodeo Arena at the Dakota Community Bank & Trust Rodeo Grounds in Mandan, North Dakota. 
Thank you ALL for texting and calling! It was fun sifting thru the entries. Who's the winner?? Tracie Carlson from Minnesota! Pack the cowboy boots and enjoy your 4th of July in Western North Dakota!
NEWS
Ontario, Canada – They have landed themselves with a new Guinness World Record. A hiker found a 58-foot poison ivy plant (Toxicodendron). The leaves of the huge vine didn't start to produce any leaves until 10 feet off the ground, making the plant identification a bit tricky. 
Guinness World Record Beef Wellington – Famous chef Gordon Ramsay has set a new Guinness World Record for the largest Beef Wellington! He along with several chefs spent hours preparing the monstrous 56 lb Beef Wellington.
That is one dish that we have yet to have attempted to make. SOO If you have a solid, bulletproof recipe to share; please do. We would love to give it a whirl, make your Beef Wellington recipe and share our results on The Bend Show. Email 
[email protected]
 with your recipe!
Oklahoma – We never know what we may come across in the outdoors, being land or water. A man scuba diving recently in a Love County, Oklahoma lake had quite the surprise when he discovered a GAS GRENADE. The diver immediately surfaced and called the police. Deputies quickly arrived and it was determined to be a LIVE GRENADE. A bomb squad was brought out to collect and then detonate the grenade. Talk about a close call, and in a mid-america lake to boot! We know metal fishing has become extremely popular for inland lakes and rivers, best be careful it may not always be treasure that is found!
Inflation news from the United States Postal Service (USPS) that we hate sharing, but alas as we all love sending letters and postcards from our travels to our loved ones. If you are one of those, or a planner already thinking of holidays this upcoming year. Going into effect July 9th, 2023, these are the new prices. For the most part, letters that qualify for Forever Stamps and including domestic postcards, will all rise 3 cents per stamp. For example: the Forever Stamps wil go from 63 cents to 66 cents. I
nternational Postcards & Letters will raise by 5 cents, so an international postcard will go from $1.45 to $1.50. All these prices go into effect on July 9th, 2023.
Can You Live In An RV Full Time?
Traveling about the other day, call it out for a Sunday drive in search of untroubled waters… Meaning no white caps so that we could safely launch our kayaks for a little fly fishing… While we were enjoying the backroads, going from one small lake to another; We came across an RV boondocking that had suitcase solar panels set up!
BEC & Tigger have done a lot of reading and research on these solar panels but have not had a chance to actually visit with anyone using said solar panels out in the field or while boondocking. So what did we do? Pulled the truck over, hopped out, and simply asked the man lounging in his lawn chair enjoying a peaceful lake view! 
We learn that suitcase solar panels work great, as long as paired with the right or correct matching rechargeable batteries.
What we didn't expect after learning about camping solar panel tips…
Was this man is a Full Time RVer. Meaning someone who lives out of a motorhome, camper or recreational vehicle. Hear is a snippet of our visit with Mr. Kurt Wise, originally from California who after retiring from a 45 Plus year career, moved to Nevada and decided he was going to give RV Life a try Full-time. He has done so successfully and has no regrets. We learn how his family reacted when told that the 1600 sqft house was being sold and Kurt Wise would now reside full-time on the road in his recreational vehicle. To make it even more of a challenge, Kurt Wise, decided to boondock as much as possible. Boondocking is camping somewhere without electricity, water or any amenities one is accustomed to. We learn that owning a motorhome or camper has many pros but some cons too. The cons being able to understand that there will be maintenance such as oil changes, generator issues and learning to do as much work yourself will save time and money.
FIELD REPORT
Bend Field Staffer, Heather Krohe, owner of Little Rack Taxidermy, shares a Field Update. A kayaker had a close call recently when on the ocean felt his kayak bumped. Bumped hard. The kayaker was wearing a Go-Pro that happened to be turned "ON" and caught video of
 a tiger shark swimming alongside his vessel. 
Follow Little Rack Taxidermy on Facebook, Heather Krohe is always sharing some terrific wildlife works of art. 
BEC's BARREL OF THE GOOD STUFF
Have a funny for ya'll this week. An Ohio couple recently was getting a little "Frisky" not too far off the trail. The couple forgot to remove their phone from a pocket… AND yes, you guessed it "Butt Dialed 911". Officers were able to ping their phone location and followed them up the hill trail only to find the naked couple under a tree. Let's put it this way, the couple scurried to get dressed… and they were cited for "public indecency".. LOL… Now the Outdoors can be extremely romantic… just maybe turn that phone "off" for a moment!
ENTERTAINMENT
Luke Combs
 – This man has been cranking out hits over recent years, from singing to songwriting, Luke Combs has landed himself as a mainstay on the country music charts. But Luke Combs wants all to know that he is a family man too. In a recent interview, he shared that he wants his son and future children to have as normal of a life as possible. That he does not want them to be on jets all the going around the world. Combs wants to be going on vacations as a family, and to have those memorable things he did not have. He wants them to ride bikes, have privacy and go fishing.

Jay Leno – Recently in an interview Jay Leno was asked when he'll ever retire from Stand Up Comedian work, his response was, "A Stroke. Then you slow down. That's when you retire When you have your stroke.' Well put Jay Leno… keep trekking, doing what you enjoy and as BEC says, "It's never too late to take a new path or try something new!"
FOURTH OF JULY FOOD TRENDS
Marshmallows. With the 4th of July right around THE BEND here is a favorite that has gotten a new look and taste!
PUFFS brand marshmallows have come out with new flavors. Have you or your kids tried these? There are Classic Milk Chocolate Marshmallows, Cookies'n Creme Marshmallows, and Filled Marshmallows with Salted Caramel!! AND That's not all…
For those wanting a Visual Effect at their campfire – There are Marshmallows out this camping season that change color while being toasted!
FIELD REPORTS & COMMENTS

Call or Text your questions, comments to 305-900-BEND or 305-900-2363
Or email [email protected]
FOLLOW Facebook/Instagram: @thebendshow
#catchBECifyoucan #tiggerandbec #outdoors #travel #cowboys
The Outdoors, Rural America, And Wildlife Conservation are Center-Stage.
AND how is that? Because Tigger & BEC… Live This Lifestyle.
Learn more about Jeff 'Tigger' Erhardt & Rebecca Wanner aka BEC here: TiggerandBEC.com
WESTERN LIFESTYLE & THE OUTDOORS
Tigger & BEC represent the Working Ranch world, Rodeo, and the Western Way of Life as well as advocate for the Outdoors and Wildlife Conservation.
Outdoorsmen themselves, this duo strives to provide the hunter, adventurer, cowboy, cowgirl, rancher and/or successful farmer with the knowledge, education, and tools needed to bring high-quality beef and the wild game harvested to your table for dinner. They understand the importance in sharing meals with family, cooking the fruits of our labor and fish from our adventures, and learning to understand the importance of making memories in the outdoors. Appreciate God's Country.
United together, this duo offers a glimpse into and speaks about what life truly is like at the end of dirt roads and off the beaten path.
Tigger & BEC look forward to hearing from you, answering your questions and sharing in the journey of making your life a success story. Adventure Awaits Around The Bend.
The Bend is a Nationally Syndicated Radio Show
Hear The Bend Show on SiriusXM, Public AM / FM Radio
AND on Your Favorite Podcast App Player!
iTunes, Spotify, iHeart, Alexa, Pandora & More!
More Episodes For You To Catch!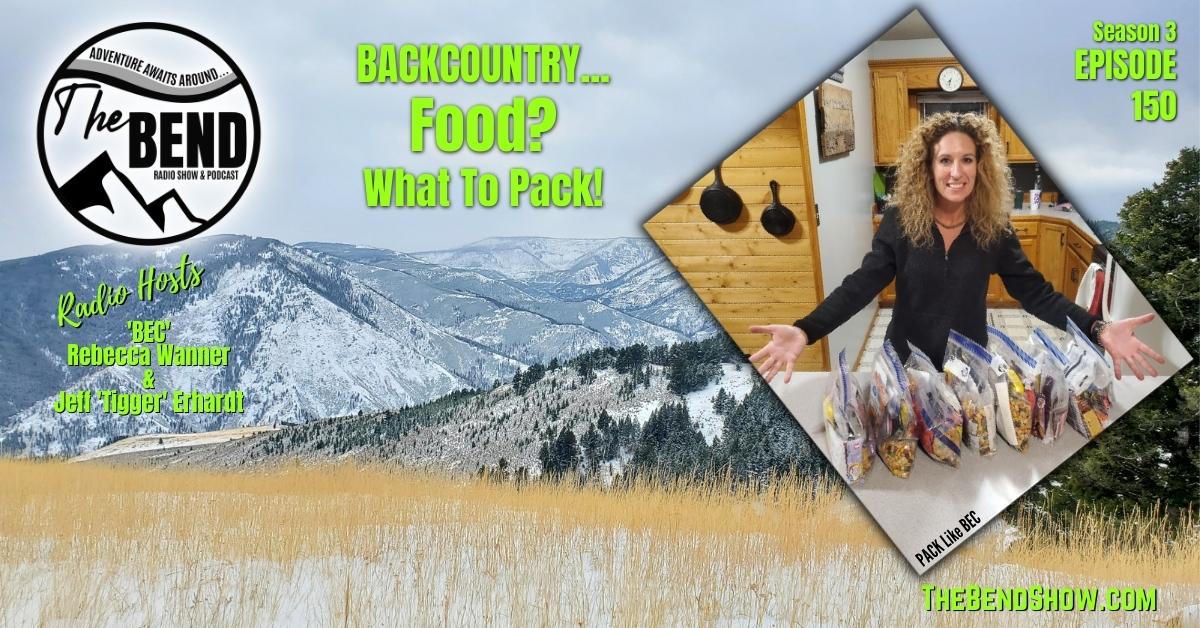 What food to backpack on hunting, fishing, or camping trips, and how to stomach freeze-dried foods while staying healthy. History of J.B. Mauney's bull riding career.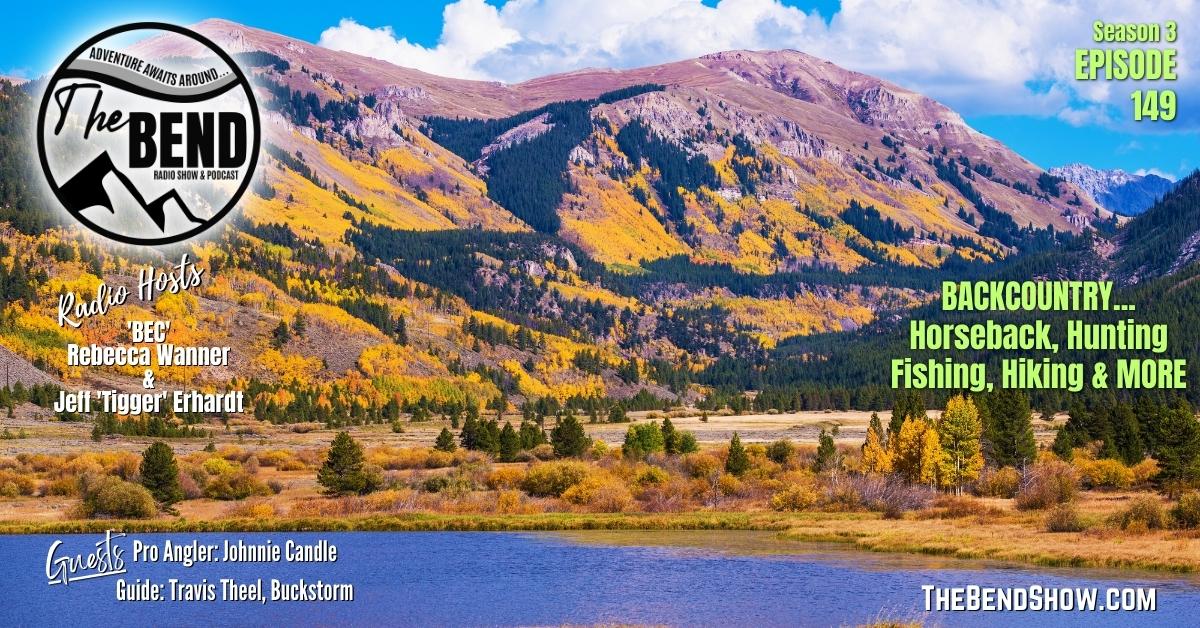 What to know before Backcountry Hunting, Horseback riding or Hiking the mountains. Tips for fall walleye fishing from pro angler Johnnie Candle.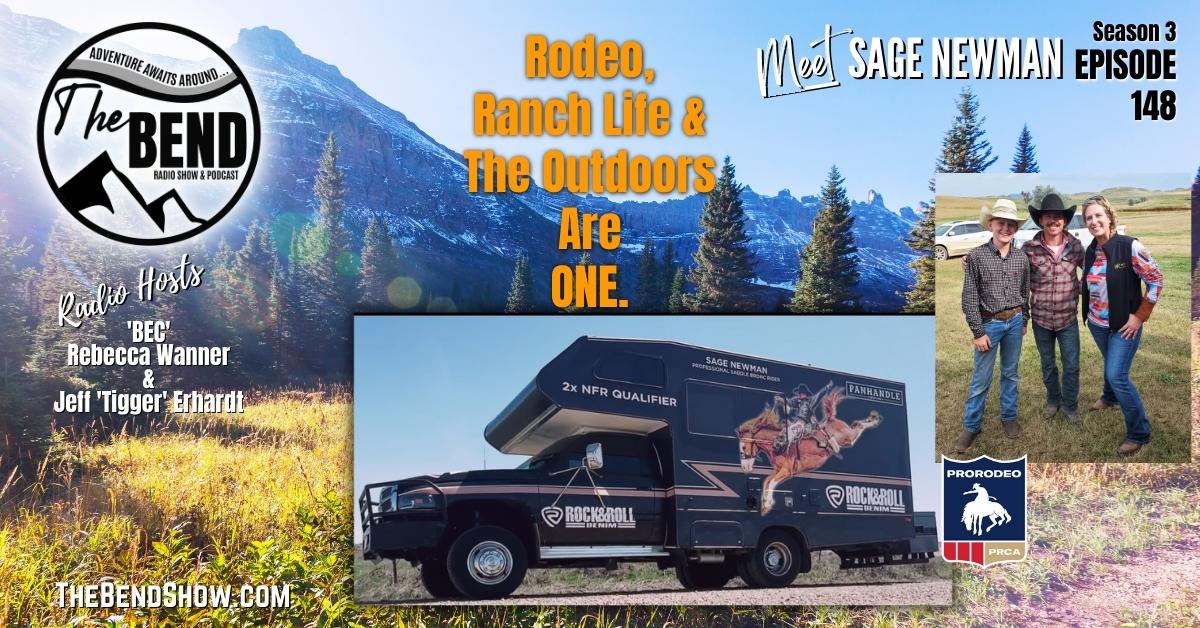 What is the Western Lifestyle? Learn how rodeo, ranching, the outdoors are all part of the Western Lifestyle. Learn backcountry hunting tips. Youth Major League Fishing.