Listener Questions Are Answered. Past special guests including Cowboy Chef Kent Rollins, Pro Angler Johnnie Candle, and JB's Wildlife Designs tackle cooking, fishing, and taxidermy questions. We have Outdoors news plus the latest food trends this summer! This is Rebecca Wanner aka BEC and Jeff 'Tigger' Erhardt with the outdoors & western lifestyle show The Bend Show! Be sure to subscribe on your favorite podcasting app or on The Bend Show YouTube channel.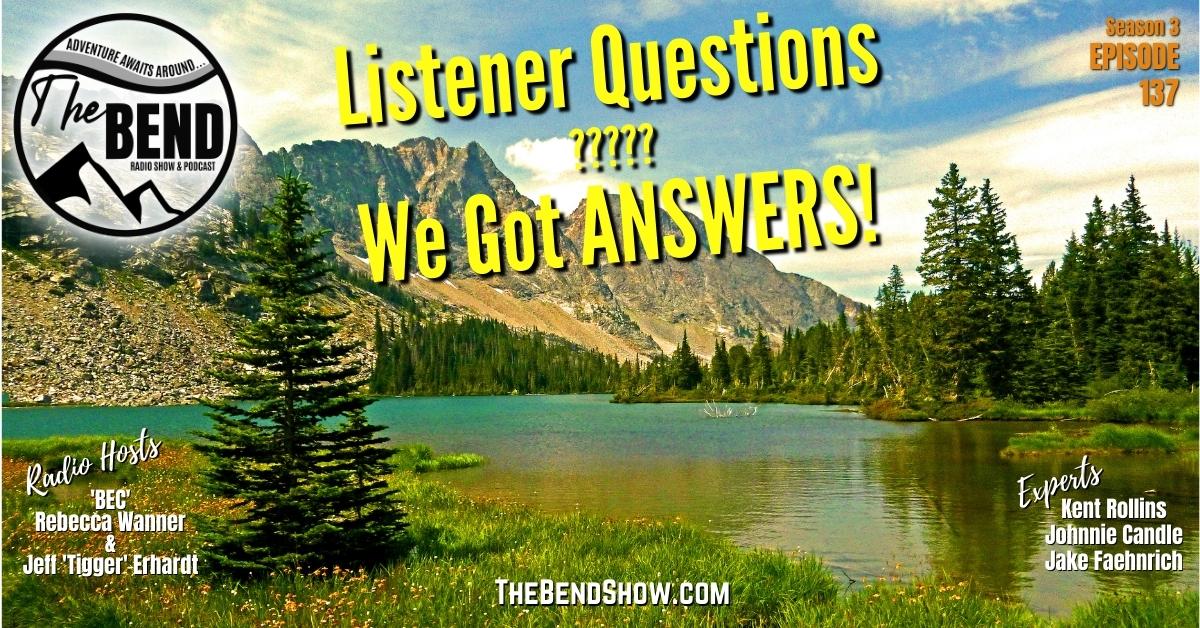 EPISODE DETAILS
BEC often thinks of June, as is National Outdoors Month (according to National Day Calendar)… That June is almost like a whole month of celebrating Fathers, Uncles, Grampas, and Friends… Anyone that's taken the time to share, show all of us the Wonders of the Outdoors. 
For that reason, as you cherish loved ones still amongst us, or think of those that have passed, cherish those memories and continue to keep making new ones!
This season so far we have had quite a few interesting guests, in case you've missed them. Famous Cowboy Chef Kent Rollins, who has just come out with a terrific new book EVERY kitchen and cabin needs – "Comfort Food The Cowboy Way". Then fishing expert, guide and 25-year veteran Professional Angler Johnnie Candle joined our crew, and lastly most recently up and coming Taxidermist Jake Faehnrich owner of JB's Wildlife Designs. We are ALWAYS asking for your thoughts and comments, and when one asks, one receives! We've heard ya loud and clear and later in the show Tigger goes into ACTION and gets these guys on the phone to answer the questions.
SPOTLIGHT
We have got something SUPER exciting for ya all this week to spotlight.
Who doesn't like, LOVE a Giveaway?! Or a reason to "Road Trip"??… Maybe somewhere you've never been? If you are a rodeo fan and a country music fan? You will love this giveaway! 
The Bend Show has teamed up with the historic Mandan Rodeo Days, considered one of the oldest rodeos in the country. We are giving away a pair of free tickets to the kick-off concert with true American cowboy, and former saddle bronc rider, Wyoming's Chancy Williams. This will be an epic party in the dirt. Literally! 
Country Artist, Chancy Williams, will be center stage joined by the duo Southerland, and Zach Thomas on Friday June 30th in Mandan, North Dakota at the brand new Dale Pahlke Rodeo Arena at the Dakota Community Bank & Trust Rodeo Grounds to kick off the 144th Mandan Rodeo Days. This is a World-Class, Premiere event venue; that we are excited to have added to the Rodeo Scene. 
How fun is that? Interested? Ever thought of road-tripping to or thru the Dakotas? The Chancy Williams concert kicks off your Fourth of July with the next 3 nights of Top Notch PRCA rodeo action.
Here we go, to enter the chance to win a pair of tickets to the Chancy Williams concert at the Mandan Rodeo Days, Call or Text 305-900-2363, and say/text: I LOVE "The Bend Show", or something like that… Besure to leave, this is important, when calling or texting, leave your full name, phone number, and address so that we can get in touch with the winner! All entries are accepted starting June 17th thru June 22, 2023. A random winner will be chosen and 
announced on next week's show (June 24th)!! Visit North Dakota this summer, and plan to catch the Chancy Williams Concert and the 144th Mandan Rodeo Days in North Dakota over the Fourth of July!
NEWS
Columbia – This was the biggest story last weekend, one that touched all heartstrings. Four children were found last weekend alive in a jungle in Columbia. The siblings had been missing for 40 days following a plane crash that took the life of their mother and pilots. The children were ages 13, 9, 4, and 11 months. They were able to stay alive thanks to the 13-year-olds knowledge of survivor skills. 
Small footprints were discovered at the crash site leading search teams to believe the children were still alive in the rainforest, which is home to jaguars, snakes, and other predators. The knowledge of fruits and jungle survival skills kept the siblings alive.
Florida – Officials are warning people not to walk dogs near bodies of water, especially as it is alligator mating season. Recently a Florida man saved his dog from an alligator attack. The man was walking the dog along a river bank when an alligator came out of the water and snatched it. The man jumped on top of the alligator and freed his dog. This event spurred the Florida Wildlife Officials again to remind all walking near bodies of water to be on alert and definitely avoid if with pets.
Illinois – a 9-year-old Wyoming, Illinois girl has gone viral for catching a Largemouth Bass with a McDonald's Chicken McNugget. The bass weighed 5 lbs. The girl stuck her McNugget on her hook before tossing her lure into a body of water. She reeled the bass in by herself… And this isn't the first time she's been adventurous with her choices of bait. She's had success too with crackers & gummy worms…. LOL… BEC says, HEY – WHATEVER WORKS, and WHATEVER gets kids outside!!
FBI WARNING – These things noone is a fan of reporting on however, it is vital that we are all aware and up to date on the latest technology, especially when it could be a potential threat. The FBI is warning people to be careful when posting selfies online. Scammers and hackers are stealing the photos and then using artificial intelligence (AI) and deepfake technology to extort people. This is BAD stuff. The scam artists are placing people's faces on other people's naked bodies in which they then threaten to send pictures or videos to the victim's friends, family, and co-workers. 
The FBI says the scammers ask for money to not send the fake, X-rated material. THIS is a topic to discuss with your family too as our youth are becoming younger and younger having full access to various social media as well as with the elderly. 
One tip that BEC can offer is that before sharing photos on social media, like Facebook or Instagram, Snapchat, BeReal, etc… Take the time now to check your privacy settings, so that you are ONLY sharing information with people you want to be and to keep a close eye on your social media Friends Lists, that there have not been "Ghost accounts" created mirroring someone else which was added to your crew when they should not have been
COOKING, FISHING & WILDLIFE QUESTIONS
Tigger has reviewed the vast number of questions received from listeners and fans of The Bend Show. He reaches out to the experts, and past guests on The Bend Show, to get the answers. 
Meet our experts and past guests.
Cowboy Kent Rollins is a genuine cowboy who has been cooking up a storm for over 30 years. He is known for his authentic cowboy cooking style, delicious recipes, and entertaining personality. Cowboy Kent Rollins was raised on a ranch in Oklahoma, where he learned how to cook from his mother and grandmother. He has been cooking on the open fire since he was a child, and his authentic cowboy cooking style is a reflection of his upbringing. Rollins is a true pioneer of cowboy cooking. He has a passion for cooking that is evident in every dish he prepares. Cowboy Kent Rollins has been featured on numerous television shows, including the Food Network's "Chopped Grill Masters", and winning "Throwdown with Bobby Flay" with his famous Kent Rollins Chicken Fried Steak to beat Bobby Flay… And since has won many other shows/competitions along the way. Ever wanted to crack the secrets to McDonald's Big Mac secret sauce, scroll down, as that's just what this Cowboy Chef has done, we share the YouTube tutorial for "The Big Mac – Cowboy Style Homemade Big Mac Recipe." Kent Rollins and his wife, Shannon Rollins, have released three cookbooks, one of which was just released called, Comfort Food the Cowboy Way. You can learn more about Kent and order his latest cookbook at KentRollins.com. You can also check out Kent Rollins' YouTube Channel here. 

JOHNNIE CAMPBELL, PROFESSIONAL ANGLER
Meet 30-plus-year veteran pro angler, Johnnie Campbell, as the newest member of The Bend Field staff. Growing up fishing on his father's charter boat on the Great Lakes, Johnnie Campbell honed his skills on Lake Erie's central basin. By age 21, Campbell had obtained his Master of Great Lakes US Coast Guard Captain's License, beginning his lifelong journey to becoming a Pro Angler, a Fishing Guide, and Sport Fishing Communicator. Since 1993, Campbell has made a career out of fishing. He has guided trips from Trout and Salmon in the Lower Niagara River, to Walleye in the Dakotas, to guiding on the Gulf of Mexico. Johnnie Campbell's pro angler stats are phenomenal having taken to competing at the highest level on the USFA, NAWA, PWT, MWC and NWT tournament fishing trails. We are excited to have him aboard the ship here at The Bend Show. Hear his story on how his successful career came to be, and remains a passion to this day.
Meet Jake Faehnrich, owner of JB's Wildlife Designs located in Mandan, North Dakota. Faehnrich is an exceptional up-and-coming taxidermist. From North American to Exotic wildlife trophies, JB's Wildlife Designs turns memories into Works of Art. Preserving our trophy animals, fish, and birds. Jake Faehnrich has experience in everything from mounts to rugs to painting on the skulls of our harvested trophies. JB's Wildlife Designs strive to exceed the expectation of every customer, preserving those moments and memories for a lifetime.
COOKING TREND & EASY RECIPE
Got a new trend, this one BEC says she is TOTALLY going to try. BEC is a huge pickle fan, and where she is from – You love Ranch Dressing and DILL PICKLES of all varieties!
The newest Pickle trend is the answer to your need for an easy recipe or easy appetizer. Dip mini or petite dill pickles into warm, melted chocolate and then set on wax paper to harden. If using Kosher pickles, dip them into the warmed chocolate and then roll the pickles in sea salt and let harden. As mentioned, if you know BEC she will be surprising all of her family and friends this summer with this easy Fourth of July appetizer recipe! If you have a fondue pot, consider this as a fun activity too for the kids. So many possibilities with these Pickle Recipes.
Drinking Alcohol and Mosquitos. 
Another trend across social media has been debunked, drinking Gin & Tonic – we are sorry to report will not WARD OFF mosquitos! BEC & Tigger have heard of many reasons to have a cocktail or two, but not this one until I was approached and then had to investigate. It turns out that drinking alcohol actually makes you slightly more attractive to those biting skeeters, mosquitos. It is advised the best thing one can do is buy a true repellent. Personally, after trying many things; Tigger & BEC have weighed the pros and cons of tick-related diseases such as Lyme disease, one that is often overlooked by the medical world, and now stockpile their household with insect repellents that contain DEET. We know that some of you listening will not agree, and that is OKAY it has just been our family's decision to go after a Deep Woods product that contains preferably 40% Deet.
Regardless, this year be sure to NOT be drinking that Gin & Tonic in hopes of warding off the mosquitos, and do plan ahead with some sort of bug repellent!
Call or Text your questions, comments to 305-900-BEND or 305-900-2363
Or email [email protected]
FOLLOW Facebook/Instagram: @thebendshow
#catchBECifyoucan #tiggerandbec #outdoors #travel
The Outdoors, Rural America And Conservation are Center-Stage.
AND how is that? Because Tigger & BEC… Live This Lifestyle.
Learn more about Jeff 'Tigger' Erhardt & Rebecca Wanner aka BEC here: TiggerandBEC.com
WESTERN LIFESTYLE & THE OUTDOORS
Tigger & BEC represent the Working Ranch world, Rodeo, and the Western Way of Life as well as advocate for the Outdoors and Wildlife Conservation.
Outdoorsmen themselves, this duo strives to provide the hunter, adventurer, cowboy, cowgirl, rancher and/or successful farmer with the knowledge, education, and tools needed to bring high-quality beef and the wild game harvested to your table for dinner. They understand the importance in sharing meals with family, cooking the fruits of our labor and fish from our adventures, and learning to understand the importance of making memories in the outdoors. Appreciate God's Country.
United together, this duo offers a glimpse into and speaks about what life truly is like at the end of dirt roads and off the beaten path.
Tigger & BEC look forward to hearing from you, answering your questions and sharing in the journey of making your life a success story. Adventure Awaits Around The Bend.
The Bend is a Nationally Syndicated Radio Show
Hear The Bend Show on SiriusXM, Public AM / FM Radio
AND on Your Favorite Podcast App Player!
iTunes, Spotify, iHeart, Alexa, Pandora & More!
More Episodes For You To Catch!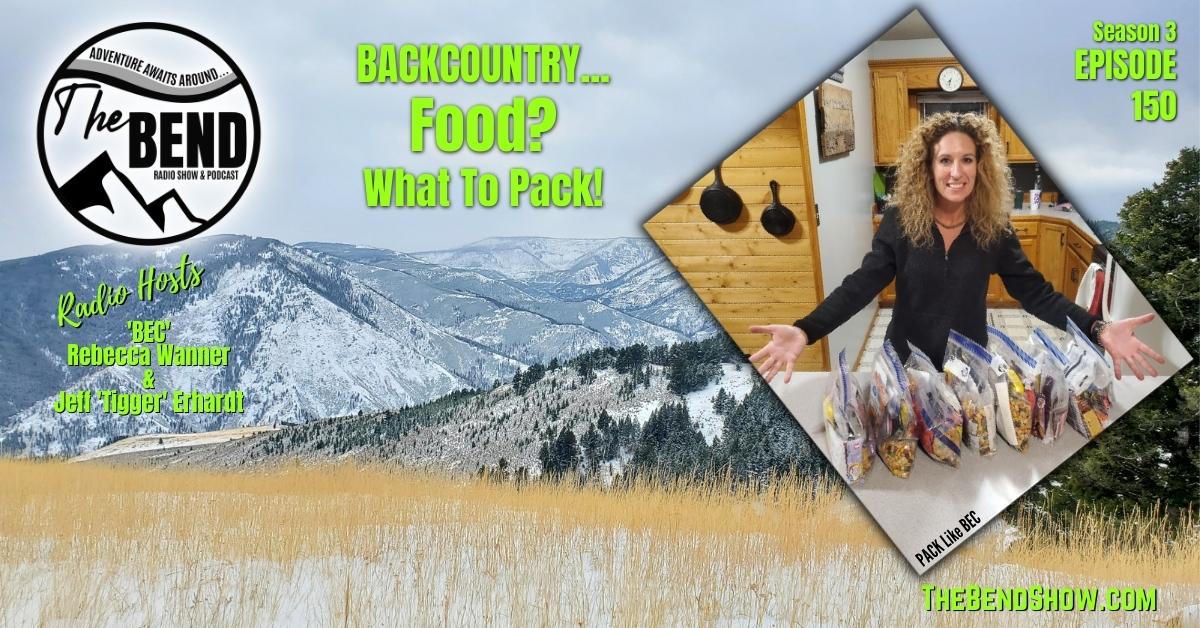 What food to backpack on hunting, fishing, or camping trips, and how to stomach freeze-dried foods while staying healthy. History of J.B. Mauney's bull riding career.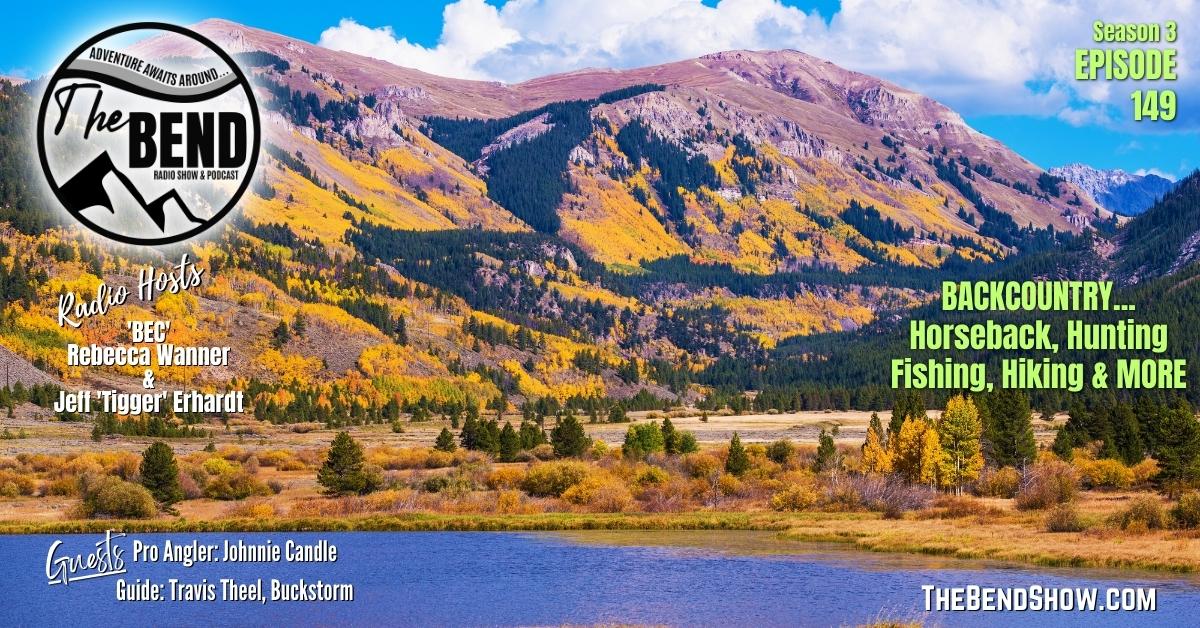 What to know before Backcountry Hunting, Horseback riding or Hiking the mountains. Tips for fall walleye fishing from pro angler Johnnie Candle.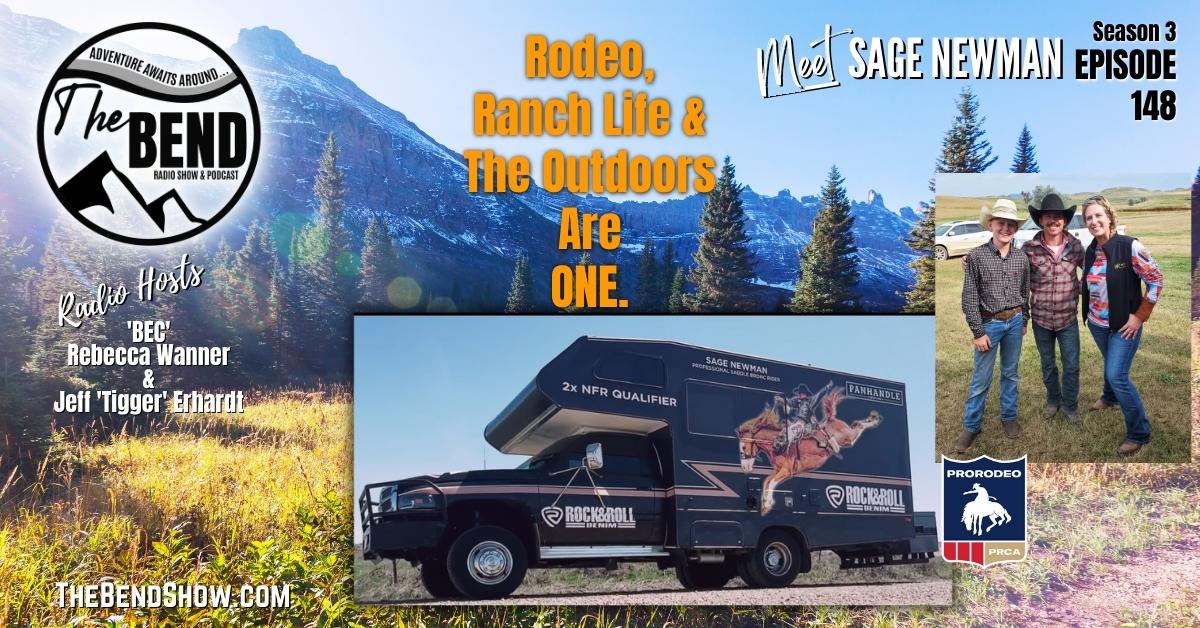 What is the Western Lifestyle? Learn how rodeo, ranching, the outdoors are all part of the Western Lifestyle. Learn backcountry hunting tips. Youth Major League Fishing.