Stealth aka Silent Hunting. We do so chasing big game, learn why it applies to hunting upland game, especially pheasants. News headlines of a self-defense grizzly kill to recent legislation protecting our hunter education in schools. This is Rebecca Wanner aka 'BEC' and Jeff 'Tigger' Erhardt with the radio show The Bend Radio Show & Podcast, your news outlet for the latest in the Outdoors & Western Lifestyle!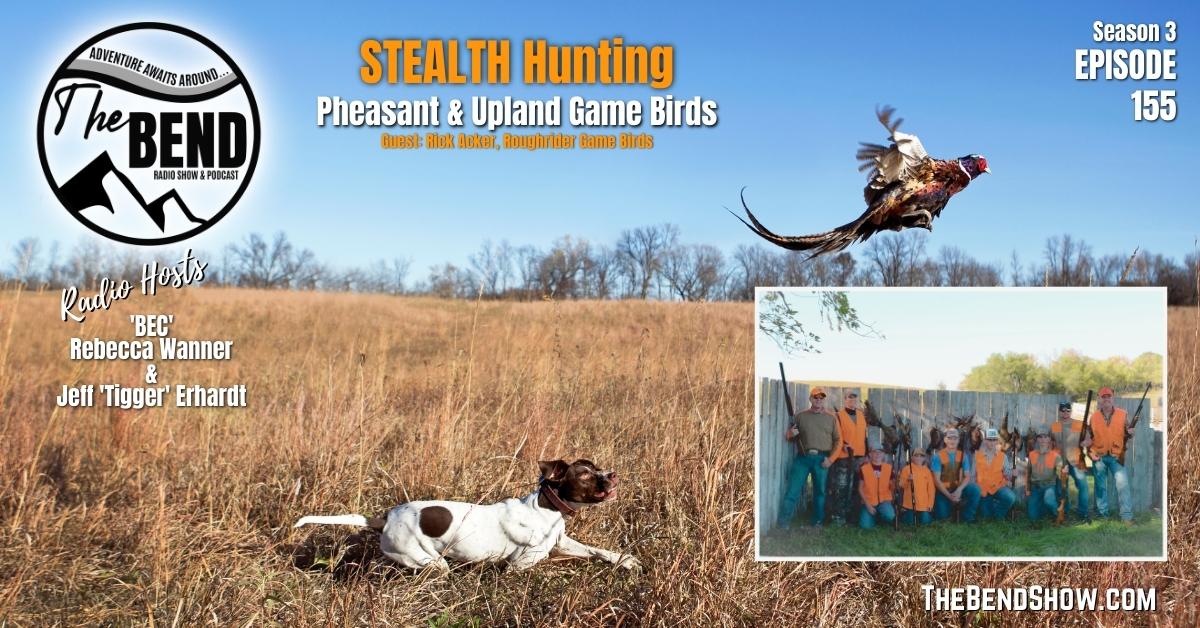 How many of you are locked and loaded, westward bound for the long awaited elk rifle season? For example, Montana's opens Saturday October 21st and Colorado has already started kicking off it's first season with the second season soon to start while Nebraska will be wrapping up bull elk seasons on October 31st. 
We want to be sure to wish everyone the best out there on a successful trip! In our news shortly, we have another grizzly story you'll want to hear and then also for those that are leaving on that long awaited hunting or fishing excursion… we share ideas that Tigger & BEC personally do so that when a spouse or loved one is left behind, they don't feel lonely, avoid the jealousy that could stem and keep everyone part of being part of a memorable trip.
Also on today's show, we have an expert in upland game hunting joining and we are talking about STEALTH pheasant hunting. With all that on deck – Let's Ride and get this show on the Road! 
NEWS
HUNTER EDUCATION PROTECTED
According to 
Outdoor News
, President Joe Biden has signed the Protecting Hunting Heritage and Education Act, which protects funding for schools that provide hunter education, archery, shooting sports and other programs. The signature comes after both chambers of the U.S. Congress solidly passed the legislation that fixes language from the Bipartisan Safer Communities Act of 2022 that potentially allowed the U.S. Department of Education to pull federal funding from schools that have hunter education, archery and other shooting sports programs.
FLORIDA ENCOURAGES RESIDENTS OUTDOORS
According to WFLA, News Channel 8: Florida Governor Ron DeSantis has announced a new initiative that went into effect this week to encourage Floridians to get outside, including discounts to state parks and for obtaining hunting and fishing licenses.
The Great Outdoors Initiative was created to encourage residents to explore Florida's state parks, recreation areas, and waterways.
The executive order directs the Florida Department of Environmental Protection and the Florida Fish and Wildlife Conservation Commission to offer 50% off annual state park passes and Gold Sportsman's hunting and fishing licenses.
The following are the discounted rates that are available until Jan. 13, 2024:
Florida State Parks Family Annual Pass: $60, plus tax

Florida State Parks Individual Annual Pass: $30, plus tax

FWC Annual Gold Sportsman licenses: $50.75, plus applicable fees

FWC Five-year Gold Sportsman: $247.75, plus applicable fees

FWC Lifetime Sportsman License: Age 4 or younger- $201.50, Ages 5-12- $351.50, Ages 13 and older- $501.50, plus applicable fees
"Florida is home to some of the best state parks, waterways and recreational lands in the country, and I encourage all Floridians to get outdoors, experience our extraordinary natural resources and enjoy our fundamental right to hunt and fish," DeSantis said. "And we are now making it more affordable for families to get outside and enjoy these wonders by offering state park passes and fishing and hunting licenses at sharply discounted rates."
We hope other states look into doing something similar for their residents. To Learn more about the FWC head to MyFWC.com.
IDAHO GRIZZLY KILLED IN SELF-DEFENSE
According to Fox News, An elk hunter in Idaho shot and killed a grizzly bear in self-defense after the animal charged directly at him in a "surprise encounter," wildlife officials said.
The hunter was moving through heavy timber near Henrys Lake State Park the evening of September 30th, 2023, when the large adult female grizzly bear emerged from the brush a short distance away, the Idaho Department of Fish and Game (IDFG) said in a statement.
When the hunter, who was not publicly identified, yelled to warn his hunting partner about the bear, the grizzly rushed toward him, according to the department.
The hunter drew his sidearm and fired several times as the charging bear closed in on him, striking and killing the animal before it was able to make contact, officials said.
After killing the grizzly, the department said the hunter immediately called the Citizens Against Poaching hotline to report the incident. IDFG officers responded and conducted a thorough investigation.
It was determined by wildlife officials that the hunter acted in self-defense during a surprise encounter with the bear from a very close distance.
Officials are reminding hunters again that grizzly bears are protected under state and federal law, and that the animals may be encountered within the Greater Yellowstone and north Idaho areas.
When hunting in grizzly country, the department encouraged visitors to carry bear spray and keep it accessible, hunt with partners, look for signs of grizzly bears and retrieve meat quickly and hang it – along with other food and garbage – at least 10 feet off the ground and 200 yards from camp.
Most attacks occur by inadvertently surprising a bear at close range, according to officials, who advised visitors to make noise around creeks and thick vegetation when not hunting.
According to Fox news, This comes after earlier in the month when Rep. Dan Newhouse, R-Wash., who chairs the Congressional Western Caucus, introduced legislation that would block a federal proposal to release grizzly bears in a forest area in Washington.
The legislation would force the Department of Interior to withdraw a proposed rule introduced in September that would involve actively restoring populations of the Grizzly Bears in Washington. We are following this as 2023 is shaping up to be the year of Beware of Bears.
FEATURE
STEALTH UPLAND BIRD HUNTING
The Do, The Do Not & Did You Know About Pheasants
Feature: Rick Acker, Award-Winning Taxidermist, Expert Upland Game Hunter
Roughrider Game Birds
https://www.facebook.com/roughridergamebirds

After opening weekend, pheasant hunting can seem more of a challenge at times after the birds have been chased. That is why it is important to now quiet hunt or stealth hunt upland game birds. If hunting with youth, it is understandable to still communicate the sex of a bird, rooster vs hen. However, if with experienced hunters, to be more successful consider leaving the cheers, yells and talking for once back at the vehicle.
Pheasants' strongest sense is sound. Quiet is key.

Pheasants see color. Dress to blend into surroundings.

Do Not be yelling "bird bird" to flush.

Do Not be yelling "Rooster" or "Hen"

Develop hand signals that all members of your group understand.

Train your dog to fully understand the shock collar being worn, so that one does not need to call for your dog.
Check your state's regulations for upland game hunting. Some states may require fluorescent orange vests and/or hats. Every year laws can change, so it is very important to know the laws before hitting the field regardless what species one is hoping to hunt or catch.
THE BEND FIELD REPORT – HEATHER KROHE
SMASHING PUMPKIN RECORD
Did you know there is a Guinness World Record for longest distance paddled in a pumpkin? Well there is! And now a new record has smashed the previous pumpkin paddling record done so again on the mighty Missouri River. Here is Bend Field Staffer, Heather Krohe with the details.
Steve Kueny grew his 1,293 pound pumpkin, carved it out, and paddled it 38.4 miles down the Missouri River from Kansas City to Napoleon.
WAYS TO FLIRT FROM THE FIELD
Both pack for the trip, try out the gear together.

Compliment the other often, that it's fun to plan the adventure together.

Leave notes in unexpected places before leaving.

Flirty Text Messages

Joke, tease, be playful when texting is possible.

Offer to help with small chores or surprise by doing them, goes both ways.

Touch affectionately. Give that BIG KISS or HUG before leaving. AND be sure to do the same upon returning, reminding the other of how much they were missed.
Website: TheBendShow.com
#catchBECifyoucan #tiggerandbec #outdoors #travel #cowboys
The Outdoors, Rural America, And Wildlife Conservation are Center-Stage.
AND how is that? Because Tigger & BEC… Live This Lifestyle.
Learn more about Jeff 'Tigger' Erhardt & Rebecca Wanner aka BEC here: TiggerandBEC.com
WESTERN LIFESTYLE & THE OUTDOORS
Tigger & BEC are News Broadcasters that represent the Working Ranch world, Rodeo, and the Western Way of Life as well as advocate for the Outdoors and Wildlife Conservation.
Outdoorsmen themselves, this duo strives to provide the hunter, adventurer, cowboy, cowgirl, rancher and/or successful farmer, and anyone interested in agriculture with the knowledge, education, and tools needed to bring high-quality beef and the wild game harvested to your table for dinner. They understand the importance in sharing meals with family, cooking the fruits of our labor and fish from our adventures, and learning to understand the importance of making memories in the outdoors. Appreciate God's Country.
United together, this duo offers a glimpse into and speaks about what life truly is like at the end of dirt roads and off the beaten path.
Tigger & BEC look forward to hearing from you, answering your questions and sharing in the journey of making your life a success story. Adventure Awaits Around The Bend.
REFERENCES
The Bend is a Nationally Syndicated Radio Show
Hear The Bend Show on SiriusXM, Public AM / FM Radio
AND on Your Favorite Podcast App Player!
iTunes, Spotify, iHeart, Alexa, Pandora & More!
More Episodes For You To Catch!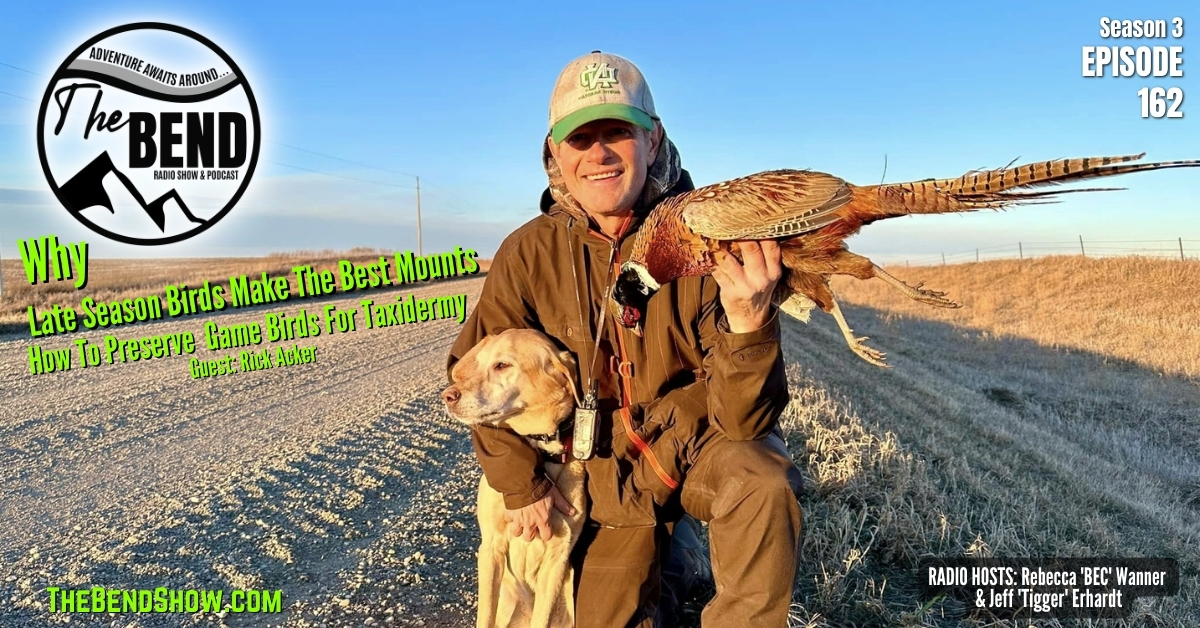 Learn when, how, or what to do for a beautiful game bird trophy taxidermy mount. Gift Idea for men and women, this utility gas, fuel or water can that does not spill.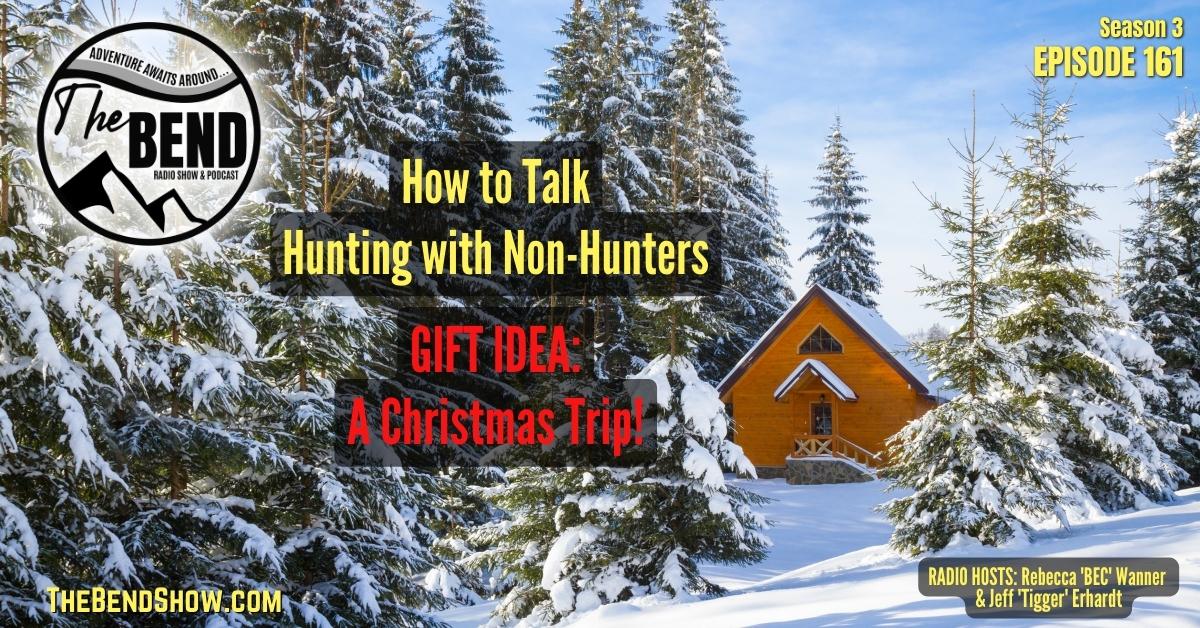 Learn how to talk about hunting with non-hunters. Gift Idea: Gather the family for the Holidays at a central location as a Christmas gift trip.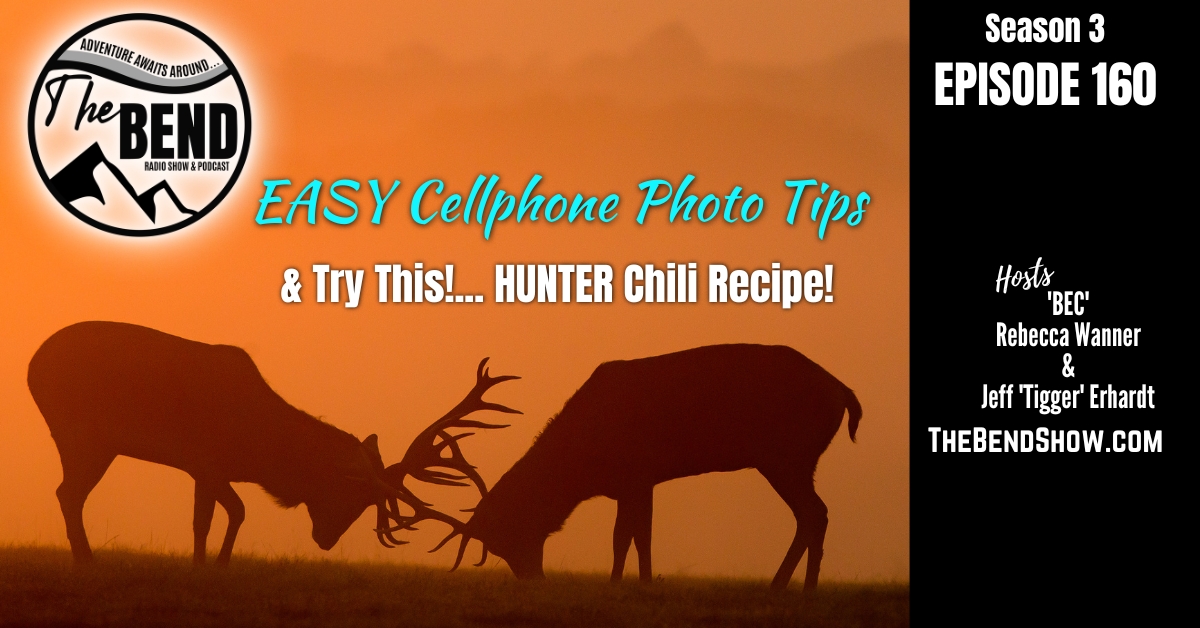 Easy cell phone photo tips for better pictures when outdoors. Hunter Chili Recipe using wild game meat.