Harvested your deer, elk, or moose, and now wondering how to prepare the venison without the gamey taste? We have tips. And change up the holidays, how about serving a Turducken? Plus we've got lots of news. This is Rebecca Wanner aka 'BEC' and Jeff 'Tigger' Erhardt with the radio show The Bend Radio Show & Podcast, your news outlet for the latest in the Outdoors & Western Lifestyle!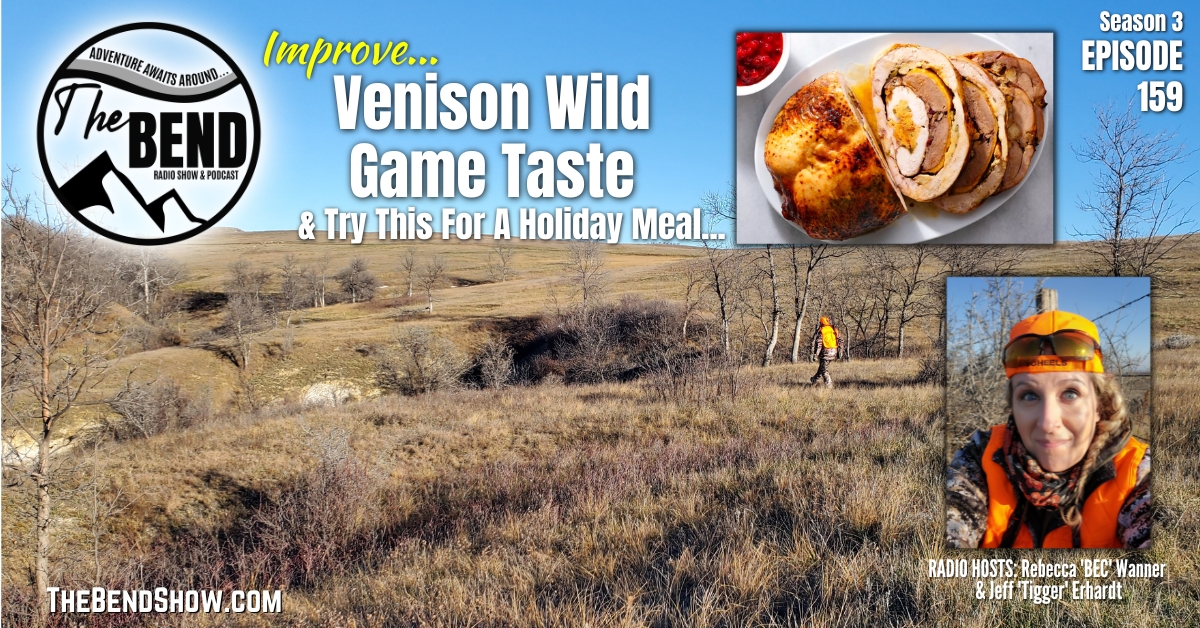 The holidays may be upon us now with Thanksgiving only days away… BUT the real countdown is on for the WNFR, the 65th Annual Wrangler National Finals Rodeo that kicks off December 7th – 16th in Las Vegas! If you've not made this a Bucket List event to attend when Vegas Goes Country, then it needs to be! From the Cowboy Christmas Shopping to the Country Music Entertainment nightly covering Classic Country to Hot New Country to Outlaw Country, and then of course the best rodeo action in the world.
NEWS
NEW PUBLIC LAND ACQUISITION LARGER THAN YELLOWSTONE
According to Outdoorlife.com; outdoor enthusiasts, especially those hunters and anglers in the Northwest, will soon have access to 15,573 acres of public land in eastern Oregon. The acquisition of the Minam River Wildlife Area was highlighted in a recent press release from the Rocky Mountain Elk Foundation, which worked with state, federal, and private partners to bring the land under public ownership.
When combined with the neighboring Eagle Cap Wilderness and the Minam State Recreation Area, the acquisition stitches together a block of public land that's larger than Yellowstone National Park. It will also improve hunting access to an additional 6,000 acres of land owned by the U.S. Forest Service and the Bureau of Land Management.
Hunters, anglers, and other users will be able to access the Minam River Wildlife Area from April 1 to Nov. 30. It will remain closed to the public for the rest of the year. While this closure will put the area off-limits for any late-season hunting and fishing, it's meant to protect big game on their wintering range. A grand opening celebration is currently slated for June 2024.
A massive 17-foot, 198-pound Burmese python was recently captured in South Florida. It is the second-largest snake ever caught in the state. The Python was caught during a cold front, making it even more unusual as snakes typically remain sedentary during colder temperatures.
FACEBOOK & INSTAGRAM SUED FOR ADDICTION
According to Newser magazine, 41 states have filed a lawsuit against Facebook an Instagram. They are accusing them of intentionally trying to make kids addicted to their platforms. The lawsuit alleges that Facebook collects data on children under 13 without parental consent. The states also claim that Facebook algorithms are designed to hook children with features like the "infinite scroll". 
According to Verge, Tinder, the dating app, has launched a new feature called Matchmaker. It allows a member's friends and family members to pick potential partners for them. Users review the dating candidates suggested by their loved ones. They then have the final say on who they like. 
HOT TUB HEALTH BENEFITS
A new study by Coventry University reveals that soaking in a hot tub may produce the same health benefits as going for a half-hour jog. Researchers had dozens of study participants soak for 30 minutes. The participants experienced major boosts in cardiovascular levels that were comparable to running. Blood flow to their legs increased by 345% while average heart rates shot up 31 beats per minute. The participants' blood pressure also dropped significantly.
Researchers found that a hot tub posed excellent benefits to both physical and mental health. The relaxed feeling of a hot tub is something enjoyable which makes the use of a hot tub even more desirable for improving health.
FEATURE
WHAT CAUSES THE WILD OR THE GAMEY TASTE IN VENISON?
The "wild" flavor of venison is directly related to what the animal eats.
Venison refers to the meat of antlered animals such as deer, moose, elk, and caribou. The 'wild' flavor of venison is directly related to what the animal eats. Corn-fed deer will have a milder flavor than those that eat acorns or sage. The 'gamey' flavor is more noticeable in the fat. Removing the fat, connective tissue, silver skin, bone, and hair during processing lessens the 'gamey' taste. However, undesirable strong flavors are can result from inadequate bleeding, delay in field dressing or failure to cool the carcass promptly.
TIPS TO HELP IMPROVE THE 'GAMEY' TASTE OF VENISON
Tenderize: Pound meat with a tenderizing tool or grind the meat.

Add Spices: Cover up the 'gamey' flavors with herbs like rosemary, marjoram, thyme or sage.

Rub With Fat: Add other fats to keep game meat from becoming too dry. Rub a roast with oil, butter, bacon fat, or sour cream to add moisture, richness, and flavor.

Marinades: Marinades tenderize (soften the muscle fibers) and enhance the flavor of venison. When using a marinade always include high-acid liquid like lemon or tomato juice, vinegar, or wine to soften the muscle fibers, and always remember to marinate meats in the refrigerator. 
TURDUCKEN THIS THANKSGIVING OR CHRISTMAS
The Turducken, or some version of it, has been around for centuries. Multibird roasts were produced by the ancient Romans. Outside of the US & Canada, they are known as a three-bird roast. A roast using various large birds stuffed with a turkey, a goose, a pheasant, a chicken, a duck, a guinea fowl, a teal, a woodcock, a partridge, or a quail for example. They are still very popular in the United Kingdom, often substituting a turkey for a goose.
DiGiorno, as in the frozen pizza, is offering a new Thanksgiving Pizza. The pizza pie has a chewy Detroit-style crust and is topped with mozzarella cheese, cheddar cheese, turkey, sweet potatoes, cranberries, green beans, and gravy. And word on the street is this new pizza has been selling out fast!
Baskin-Robbins
 icecream has a new Thanksgiving inspired flavor called 
Turkey Day Fixin's
. The holiday flavors combined of sweet potato and autumn spice ice creams with honey cornbread pieces and swirls of cranberry sauce.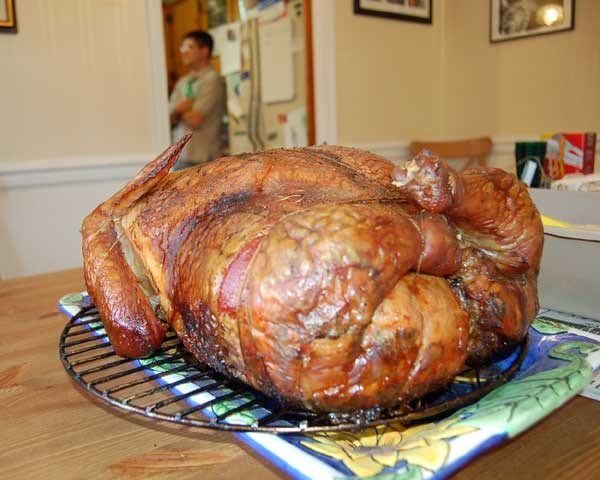 A TURDUCKEN here in the United States, made popular in 1985 by Louisiana Cajun chef Paul Prudhomme, is a stuffed boneless turkey with a boneless duck, then the duck with a boneless chicken with layers of stuffing in between. Finally, the chicken is stuffed with, (You guessed it!) stuffing (or dressing as some say it). This savory and unique main course is a delicacy on any holiday or special occasion, but Thanksgiving and Christmas is the most popular time to serve it. 
BEER ENTHUSIASTS & BAKERS
We need you to weigh in on this trend that crossed BEC's path… Beer is considered the perfect ingredient for richer chocolate chip cookies. To be even more specific, according to Yahoo Style, adding Stout Beer to chocolate chip cookie dough will enhance the flavor and balances out the sweetness. Whether one stirs in the beer or makes a reduction, the claim is that the cookies will have a deep, rich flavor. Have You Tried? Do you have a tried and true baking recipe that uses beer as an ingredient? We want to try it in the cabin kitchen! Email [email protected]
FIELD REPORTS & COMMENTS
Call or Text your questions, or comments to 305-900-BEND or 305-900-2363
Or email [email protected]
FOLLOW Facebook/Instagram: @thebendshow
https://www.facebook.com/thebendshow
SUBSCRIBE to The Bend YouTube Channel.
Website: TheBendShow.com
#catchBECifyoucan #tiggerandbec #outdoors #travel #cowboys
The Outdoors, Rural America, And Wildlife Conservation are Center-Stage.
AND how is that? Because Tigger & BEC… Live This Lifestyle.
Learn more about Jeff 'Tigger' Erhardt & Rebecca Wanner aka BEC here: TiggerandBEC.com
WESTERN LIFESTYLE & THE OUTDOORS
Tigger & BEC are News Broadcasters that represent the Working Ranch world, Rodeo, and the Western Way of Life as well as advocate for the Outdoors and Wildlife Conservation.
Outdoorsmen themselves, this duo strives to provide the hunter, adventurer, cowboy, cowgirl, rancher and/or successful farmer, and anyone interested in agriculture with the knowledge, education, and tools needed to bring high-quality beef and the wild game harvested to your table for dinner. They understand the importance in sharing meals with family, cooking the fruits of our labor and fish from our adventures, and learning to understand the importance of making memories in the outdoors. Appreciate God's Country.
United together, this duo offers a glimpse into and speaks about what life truly is like at the end of dirt roads and off the beaten path.
Tigger & BEC look forward to hearing from you, answering your questions and sharing in the journey of making your life a success story. Adventure Awaits Around The Bend.
REFERENCES
https://www.nfrexperience.com/
https://www.nfrexperience.com/entertainment_around_town
https://www.outdoorlife.com/conservation/oregon-public-land-acquisition-minam-river/
https://www.rmef.org/elk-network/minam-river-wildlife-area-acquisition-complete-adding-15573-acres-in-oregon-landscape-scale-conservation/?utm_source=ActiveCampaign&utm_medium=email&utm_content=Minam+River+Wildlife+Area+Acquisition+Complete%2C+Adding+15%2C573+Acres+in+Oregon+Landscape-Scale+Conservation&utm_campaign=Minam+River+Wildlife+Area+Acquisition+Complete%2C+Adding+15%2C573+Acres+in+Oregon+Landscape-Scale+Conservation
https://www.nps.gov/yell/index.htm
https://extension.umn.edu/preserving-and-preparing/cooking-venison-flavor-and-safety#preparation-methods-to-improve-taste-3059760
https://www.hebertsmeats.com/turduckens-for-sale/History-of-turduckens.asp#:~:text=This%20savory%20and%20unique%20main,popular%20time%20to%20serve%20it.
https://www.foodnetwork.com/recipes/the-turducken-boneless-turkey-stuffed-with-a-boneless-duck-and-boneless-chicken-one-big-bird-recipe0-2015129
https://domesticfits.com/stout-brown-butter-and-chocolate-chip-cookies/
https://www.yahoo.com/lifestyle/beer-unexpected-ingredient-richer-chocolate-030000380.html
The Bend is a Nationally Syndicated Radio Show
Hear The Bend Show on SiriusXM, Public AM / FM Radio
AND on Your Favorite Podcast App Player!
iTunes, Spotify, iHeart, Alexa, Pandora & More!
More Episodes For You To Catch!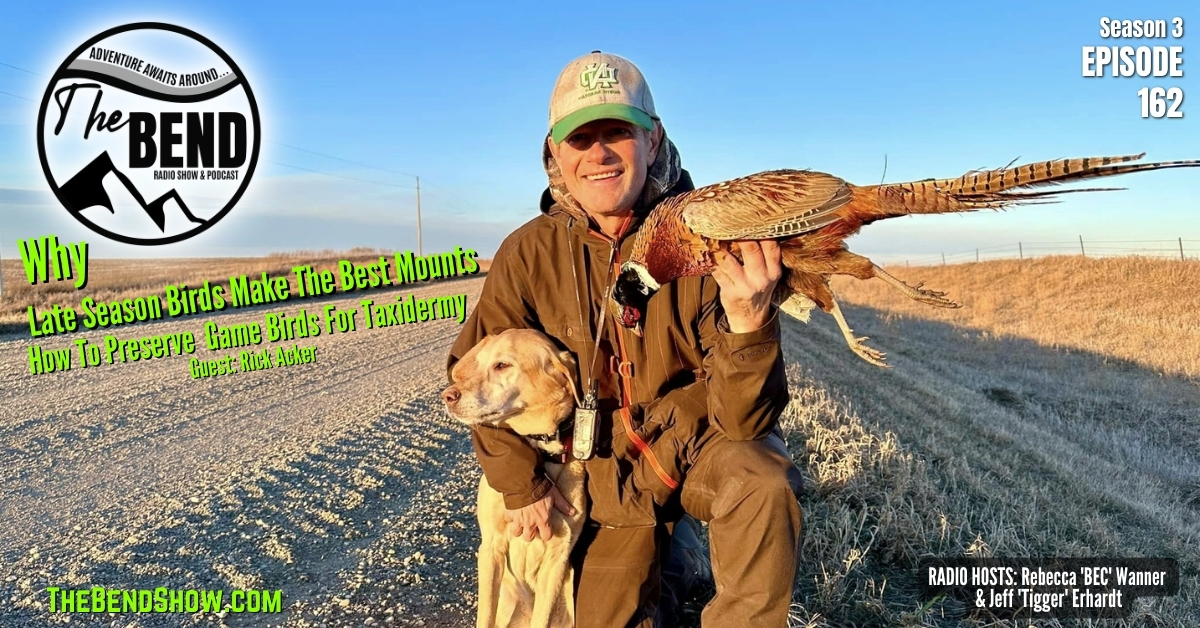 Learn when, how, or what to do for a beautiful game bird trophy taxidermy mount. Gift Idea for men and women, this utility gas, fuel or water can that does not spill.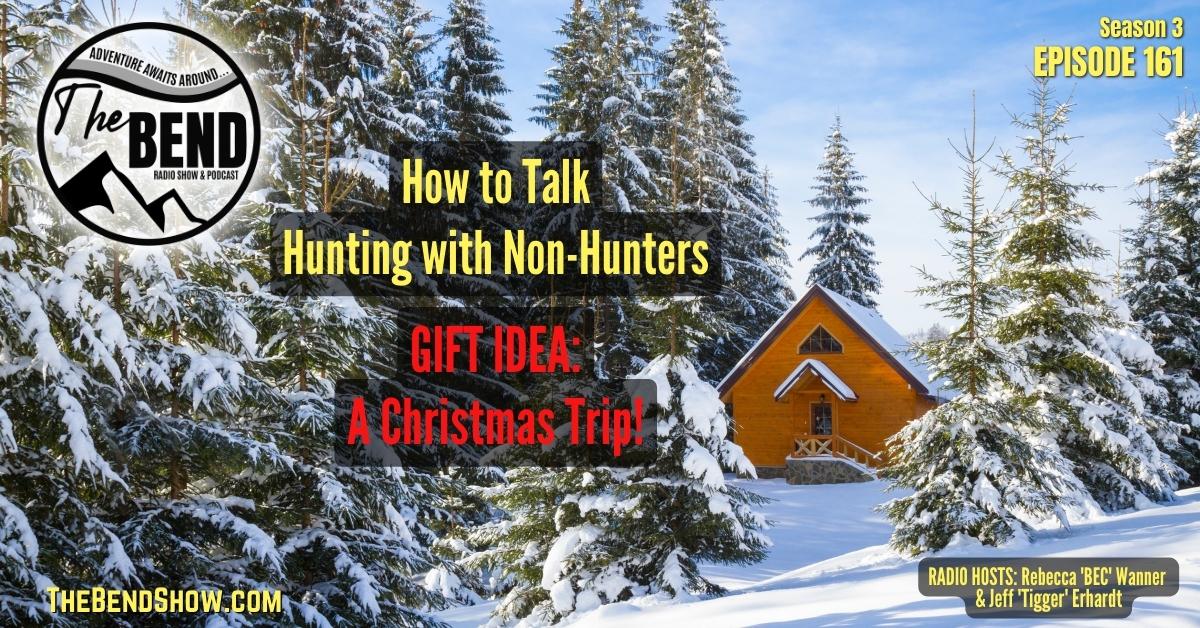 Learn how to talk about hunting with non-hunters. Gift Idea: Gather the family for the Holidays at a central location as a Christmas gift trip.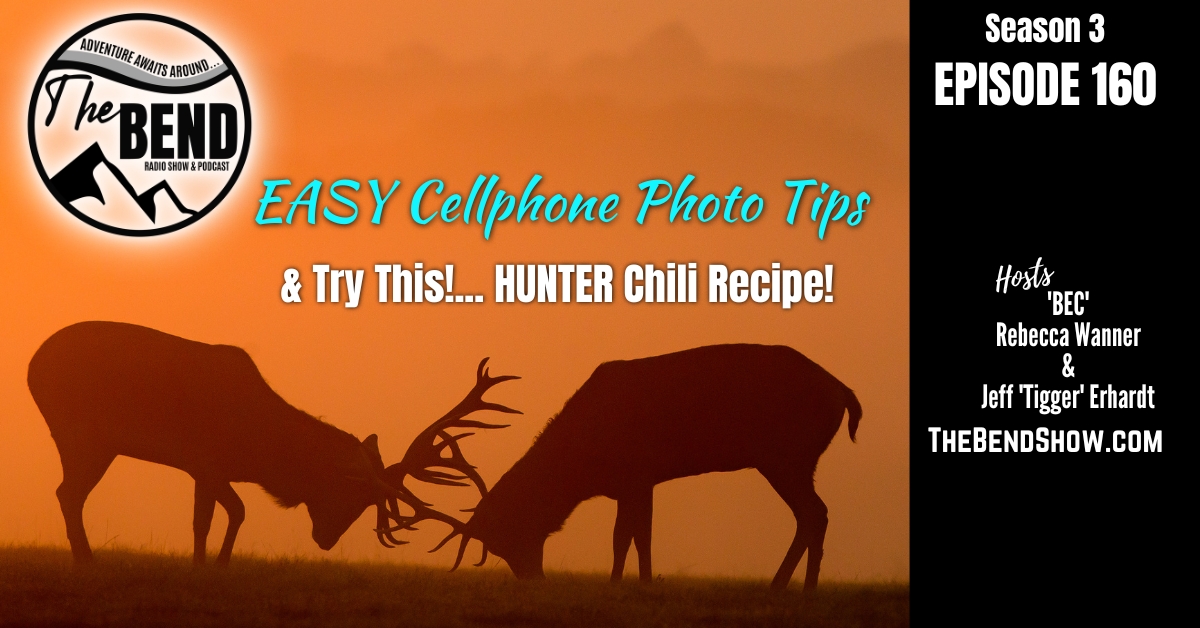 Easy cell phone photo tips for better pictures when outdoors. Hunter Chili Recipe using wild game meat.