Dig out the slow cooker, and learn how to easily cook bird game meats. Fall cleaning out the hunting 4×4? We have solutions to banish nasty odors naturally. Plus Hear how one school has added an English class like no other that involves youth fly fishing.

 This is Rebecca Wanner aka 'BEC' and Jeff 'Tigger' Erhardt with the radio show The Bend Radio Show & Podcast, your news outlet for the latest in the 
Outdoors & Western Lifestyle
!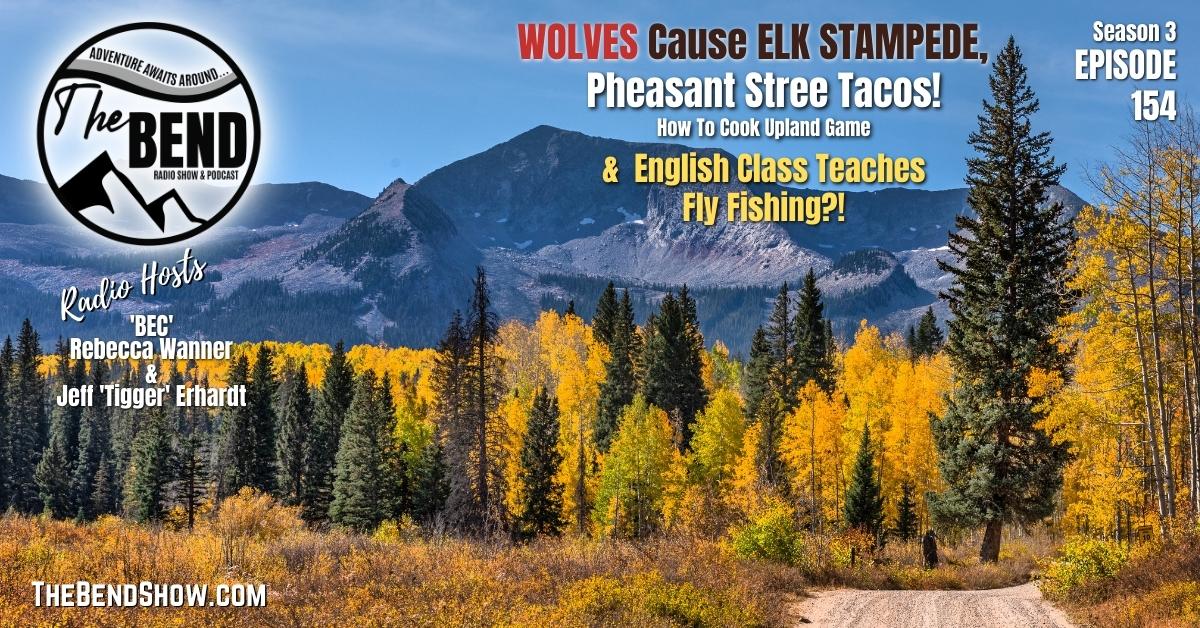 Pheasant season is here in the North! Tigger & BEC spent last weekend's opener sharing the time with their nephews and taking out family. Tigger of course had to rib BEC as at the last minute she did a "No-No" and decided to switch from her pump 12-gauge shotgun to her over-under; and was skunked. But it all happens to the best of us! Thankfully much of their party was limited out and most importantly fun & memories were made.
NEWS
HIGH SCHOOL: FLY FISHING CLASS
An innovative English class introduced Maine high school students to fly fishing this fall. Nokomis Regional High School in Newport, Maine introduced this fall an innovative English elective class that focuses on fly fishing. The goal, to engage students by immersing them in the outdoors.
The instructor, Nick Miller, was asked by the principal if he was to teach a nontraditional class, would he be interested and if given the opportunity, what would it be. Mr. Nick Miller chose his favorite hobby, Fly Fishing.
Thus far students have been taught basics in fly fishing including going out to several bodies of water to actually fish. Later in the semester, once to chilly outside they will begin reading works such as Norman Maclean's "A River Runs Through It" (a book made famous by the movie of same name featuring actor Brad Pitt),  and transition the outdoors relatability into more of a traditional English Class.
VERMONT POACHER CAUGHT IN ACTION

After a years-long court process, the Vermont Department of Fish and Wildlife after instances dating back three years are now able to put to rest a poaching case.
After reports of poaching by a 43-year-old male, the Vermont Department of Fish and Wildlife staged a dummy deer, a buck, in Northern Vermont in which Shane Philips was caught in action. According to a press release from the VDFW, Game wardens watched Shane Philips of Vermont attempt to poach the buck by using his vehicle headlights to illuminate it in the dark. After shooting the dummy buck with a crossbow, the suspect was confronted, and he fled the scene. 
The suspect was tracked, arrested, and confiscated both the crossbow and vehicle. Philips has been found guilty of taking big game by 5 illegal means. This poacher must pay a fine of almost $3,000, forfeit both the vehicle and crossbow, and has lost his hunting privileges for the next three years.
YELLOWSTONE ELK STAMPEDE CAUSED BY WOLVES
Right place, right time. In a once-in-a-lifetime sighting, a wildlife photographer in Yellowstone National Park this month captured video footage of an approximately 300-head herd of elk chased by a pack of wolves.
A must-watch! The pack of about 20 wolves pursuit of the herd resulted in an elk stampede with the wolves bringing down a young cow. This video is a glimpse of nature that is rarely seen much less caught on camera. An impressive video of wildlife in action.

ELIMINATE ODORS NATURALLY
Banish Nasty Odors From Vehicles Naturally!
That's the focus. With fall now here, we are all stoked for hunting season… not for fall cleaning… but if you're like most, this is that one time of year your vehicle too. Have to make room for your hunting buddies, or maybe your 4×4 is musty smelly having sat waiting for hunting season to kick off OR your farm & ranch truck needs a little TLC. We are here to the rescue with natural ways to banish and neutralize those nasty car odors naturally. You might even want to use these tricks to remove smells from your daily ride too!
Ventilation – crack open the windows, kind of a no-brainer there. Baking Soda Magic – sprinkle on the seats & floor mats as well as the carpet, let sit for a while, and vacuum up. Citrus Freshness – place some lemons or oranges in half and leave for a day sitting in the vehicle. Dry Coffee Grounds – leave a cup or bowl in the front, back and if spills just vacuum up. Dryer Sheets – Choose your favorite scent and leave around inside the vehicle, they also help with keeping mice away too. Lastly, good old Vinegar – a great scent neutralizer and sanitizer in one, wipe down the dashboard, and steering column, and clean the inside windows with it.
RECIPE: PHEASANT STREET TACOS
What to do with some of that game meat you're harvesting right now, that's easy, yummy, and even fun to serve at the next family gathering or tailgate. Tacos are always a hit, so why not change it up and consider using your upland game birds! Use pheasant, quail, grouse or even rabbit or squirrel if you really want to get crazy!
Heat up your slow cooker on high, and toss in a can of your favorite enchilada sauce – red or green, and a can of chiles – mild, moderate or hot depending on your love for a little kick. Add one chopped sweet onion and mix together with your favorite taco seasoning. Add in one and a half pounds of meat and let cook on high for 4 hours.
Once the meat is cooked thoroughly, shred the meat, add it back to the slow cooker, and put on low heat. DONE, it is ready to serve whenever you are ready to eat!
Use small corn or flour tortillas, put a heavy spoonful of the saucy meat mixture then top with a little pico, a dab of avocado or guacamole and a sprinkle of cilantro… And you have Wild Game Street Tacos!
Website: TheBendShow.com
#catchBECifyoucan #tiggerandbec #outdoors #travel #cowboys
The Outdoors, Rural America, And Wildlife Conservation are Center-Stage.
AND how is that? Because Tigger & BEC… Live This Lifestyle.
Learn more about Jeff 'Tigger' Erhardt & Rebecca Wanner aka BEC here: TiggerandBEC.com
WESTERN LIFESTYLE & THE OUTDOORS
Tigger & BEC are News Broadcasters that represent the Working Ranch world, Rodeo, and the Western Way of Life as well as advocate for the Outdoors and Wildlife Conservation.
Outdoorsmen themselves, this duo strives to provide the hunter, adventurer, cowboy, cowgirl, rancher and/or successful farmer, and anyone interested in agriculture with the knowledge, education, and tools needed to bring high-quality beef and the wild game harvested to your table for dinner. They understand the importance in sharing meals with family, cooking the fruits of our labor and fish from our adventures, and learning to understand the importance of making memories in the outdoors. Appreciate God's Country.
United together, this duo offers a glimpse into and speaks about what life truly is like at the end of dirt roads and off the beaten path.
Tigger & BEC look forward to hearing from you, answering your questions and sharing in the journey of making your life a success story. Adventure Awaits Around The Bend.
REFERENCES
https://www.outdoorlife.com/conservation/vermont-deer-jacker-sentenced/
The Bend is a Nationally Syndicated Radio Show
Hear The Bend Show on SiriusXM, Public AM / FM Radio
AND on Your Favorite Podcast App Player!
iTunes, Spotify, iHeart, Alexa, Pandora & More!
More Episodes For You To Catch!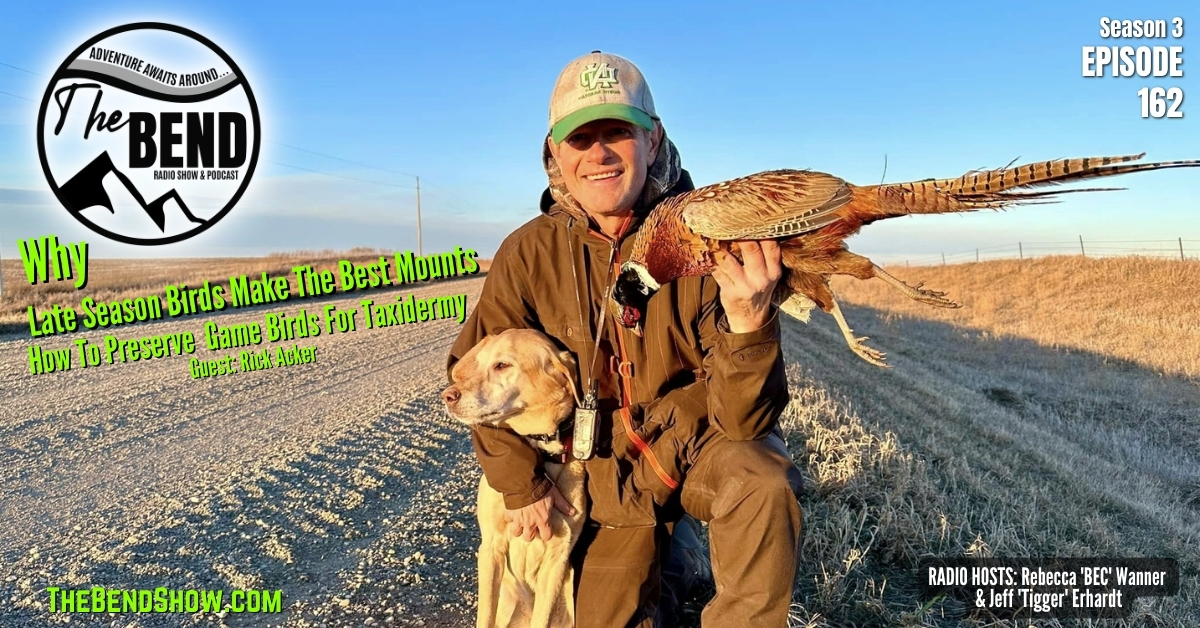 Learn when, how, or what to do for a beautiful game bird trophy taxidermy mount. Gift Idea for men and women, this utility gas, fuel or water can that does not spill.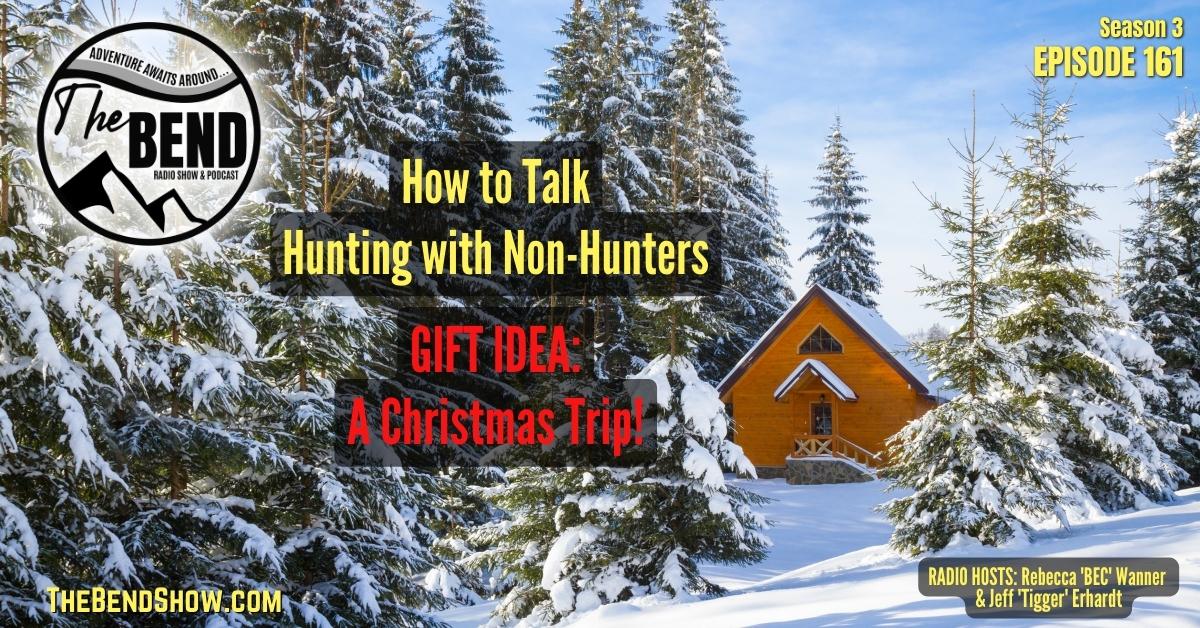 Learn how to talk about hunting with non-hunters. Gift Idea: Gather the family for the Holidays at a central location as a Christmas gift trip.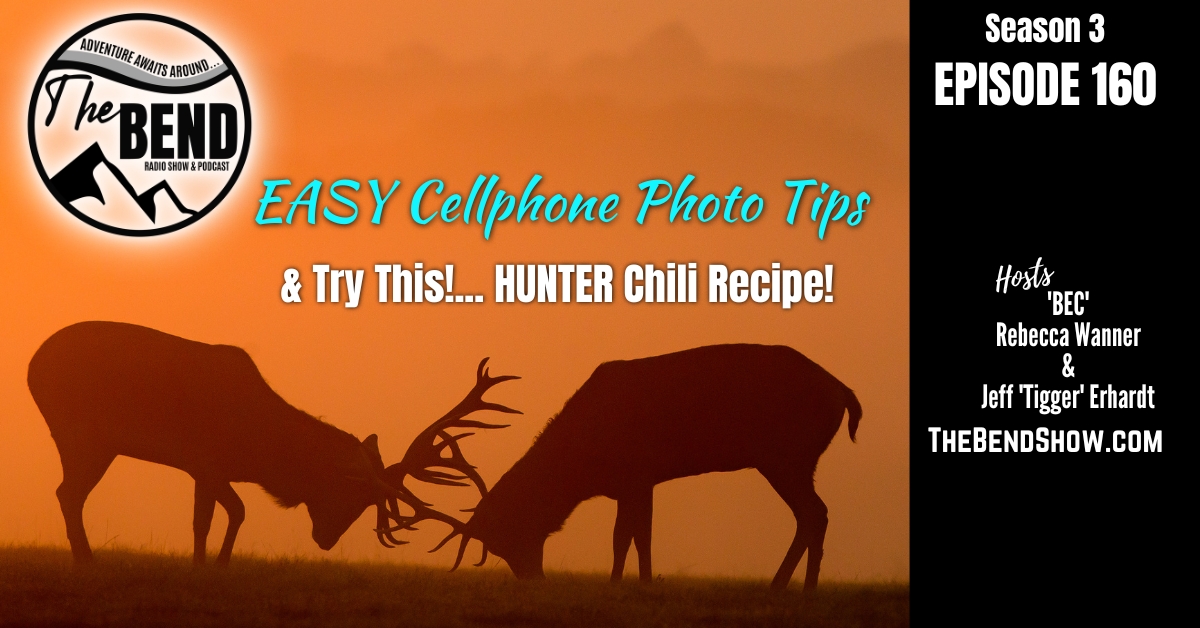 Easy cell phone photo tips for better pictures when outdoors. Hunter Chili Recipe using wild game meat.