This week news of records being broken in the hunting and fishing world, we share the latest details for the upcoming NFR when Las Vegas turns into Rodeo Vegas plus tips to host hassle-free. This is Rebecca Wanner aka 'BEC' and Jeff 'Tigger' Erhardt with the radio show The Bend Radio Show & Podcast, your news outlet for the latest in the Outdoors & Western Lifestyle!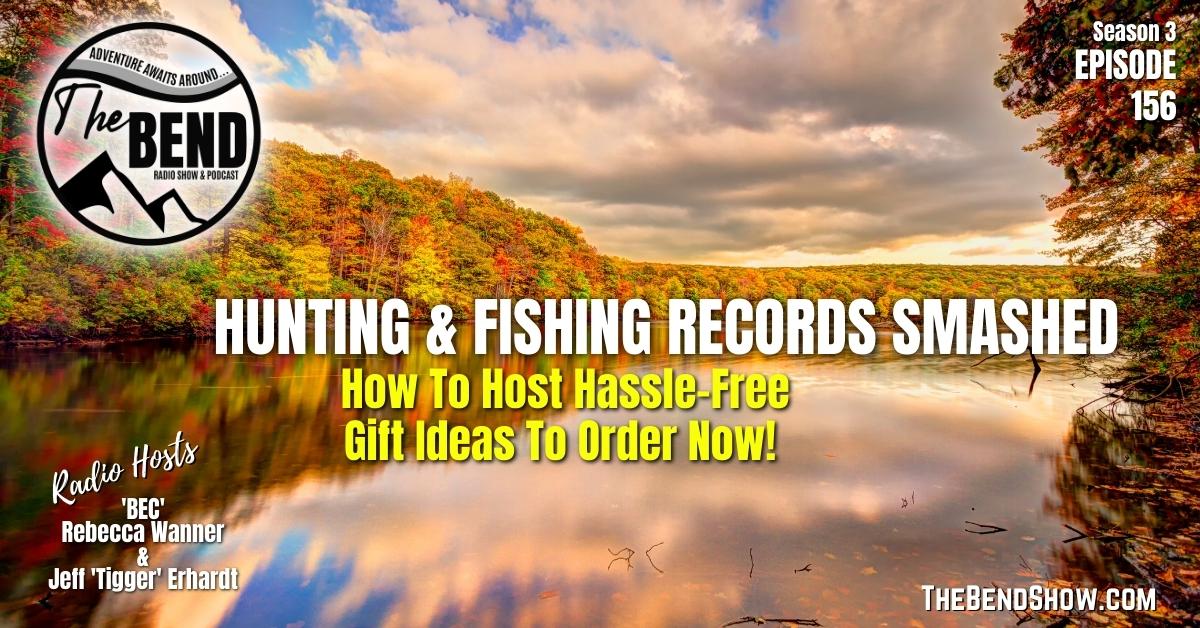 If rifle deer hunting has started in your neck of the woods, it will be soon. Time to pull out your trusty deer rifle and dust off your cobwebs by sighting in both the firearm and sharpen your skills. If you already have taken some shots, dialed in that scope earlier when it was warm; remember it is very important to do so again in the temperature and humidity that you will be hunting. We want everyone prepared and ready to have a memorable successful hunt!
NEWS
BOWHUNTER TAGS WORLD RECORD VELVET BULL MOOSE
After five years of buying raffle tickets for the North American Game Warden Museum's moose tag, Trace Armstrong of Rolette, North Dakota actually won the coveted grand prize tag!
Now the hunt was on to find a trophy bull to fill this winning Moose tag. A trophy is an understatement for what Armstrong drew his bow for on August 31st, 2023. Armstrong released his arrow at 35 yards to take down a 1,700lb Canadian bull moose still in velvet that has been green scored by an official Pope & Young representative at 173 4/8 inches and with a net score of 16 6/8th inches. The bull will be scored again after October 31st, for the dried rack requirement and if stays close to the green score it is speculated to top the Pope & Young record book which would make it the new World Record Velvet Bull Moose! Head to TheBendShow.com to see this massive beautiful trophy bull! Congrats again to Trace Armstrong!

MASSIVE BLUE MARLIN SMASHES GULF OF MEXICO RECORDS
Dreaming about heading south to warmer waters and partaking in some deep-sea fishing? Recently, Texas angler Scooter Anderson did just that launching out of Alabama on a 55-foot Viding offshore boat. Anderson landed an officially weighed and measured 12-foot, 1,145-pound Blue Marlin that shames not just Alabama records but all Gulf of Mexico State Records!
NFR After-Party Announces Entertainment Lineup & New Location
The most anticipated after party of the NFR, hosted annually by Rodeo Vegas, is ringing in its 20th Anniversary with Country Music Stars Justin Moore, Corey Kent, Chayce Beckham and more at its new home, Rodeo Vegas's new location will be part of Resorts World Las Vegas

.
HOSTING FAMILY & FRIENDS HASSLE FREE
Take it from BEC, don't fret about volunteering to host that next gathering or if you are someone who's always wanted to do so. The stress is what we put on ourselves, and our guests are just happy to be invited! Here are BEC's tips for keeping it fun, cost-effective, and stress-free!
Guest List: In this day in age, it is completely okay to create a Facebook Event and invite this way. It's highly recommended as almost everyone has at least one member in their household with a Facebook account. This then can be used for last-minute details, as well as used to build up the excitement for the date.

Location: If your home is a disarray, that's okay! BEC uses her heated shop for fall gatherings. A bathroom is cleaned in the house near the door, but there are never any complaints about hanging out in a big open space like a shop or garage.

FOOD: As the host, find one of your favorite recipes that can be made ahead of time that covers the "Main Dish". BEC & Tigger always make Tigger's Ranchers Chili. It is a hit with everyone! Then say in your invite to bring a side to share! BEC leans towards main dishes that can be kept warm in a crockpot or roaster, ready to serve or be enjoyed at any time.

DRINKS: Make it BYOB (Bring Your Own Beverage) and have a case of water or two on hand. This way there's no headache in making sure everyone is covered. Have a bag of ice handy for an ice bucket and you are good to go!

SERVING FOOD: Cover all the counters or workbenches with inexpensive throwaway table coverings. Typically only a couple of dollars. Have paper plates, napkins, and plastic silverware for easy cleanup.

ENJOY THE TIME spent with the ones you love!
GIFT IDEAS
Another beautiful piece written and read by Richelle Barrett the author, photographer and rancher from northern Montana, known as The Prairie Crocus. In time for the holidays, we recommend ordering her latest inspirational coffee table book "Anthology" filled with beautiful thoughts and photos of the rural way of life. Available now at Prairie-Crocus.com. Be sure to follow her on Facebook too @ThePrairieCrocus.
WESTERN STYLE
Looking for the latest in Western fashion and style? Medora Boot and Western Wear keep both Tigger & BEC in the boots they love, the jeans that fit, and the latest styles of shirts, jackets, and more. Check out MedoraBoot.com located in historic Medora, North Dakota in the Badlands. Online ordering and shipping are available in time for the holidays!
Website: TheBendShow.com
#catchBECifyoucan #tiggerandbec #outdoors #travel #cowboys
The Outdoors, Rural America, And Wildlife Conservation are Center-Stage.
AND how is that? Because Tigger & BEC… Live This Lifestyle.
Learn more about Jeff 'Tigger' Erhardt & Rebecca Wanner aka BEC here: TiggerandBEC.com
WESTERN LIFESTYLE & THE OUTDOORS
Tigger & BEC are News Broadcasters that represent the Working Ranch world, Rodeo, and the Western Way of Life as well as advocate for the Outdoors and Wildlife Conservation.
Outdoorsmen themselves, this duo strives to provide the hunter, adventurer, cowboy, cowgirl, rancher and/or successful farmer, and anyone interested in agriculture with the knowledge, education, and tools needed to bring high-quality beef and the wild game harvested to your table for dinner. They understand the importance in sharing meals with family, cooking the fruits of our labor and fish from our adventures, and learning to understand the importance of making memories in the outdoors. Appreciate God's Country.
United together, this duo offers a glimpse into and speaks about what life truly is like at the end of dirt roads and off the beaten path.
Tigger & BEC look forward to hearing from you, answering your questions and sharing in the journey of making your life a success story. Adventure Awaits Around The Bend.
REFERENCES
The Bend is a Nationally Syndicated Radio Show
Hear The Bend Show on SiriusXM, Public AM / FM Radio
AND on Your Favorite Podcast App Player!
iTunes, Spotify, iHeart, Alexa, Pandora & More!
More Episodes For You To Catch!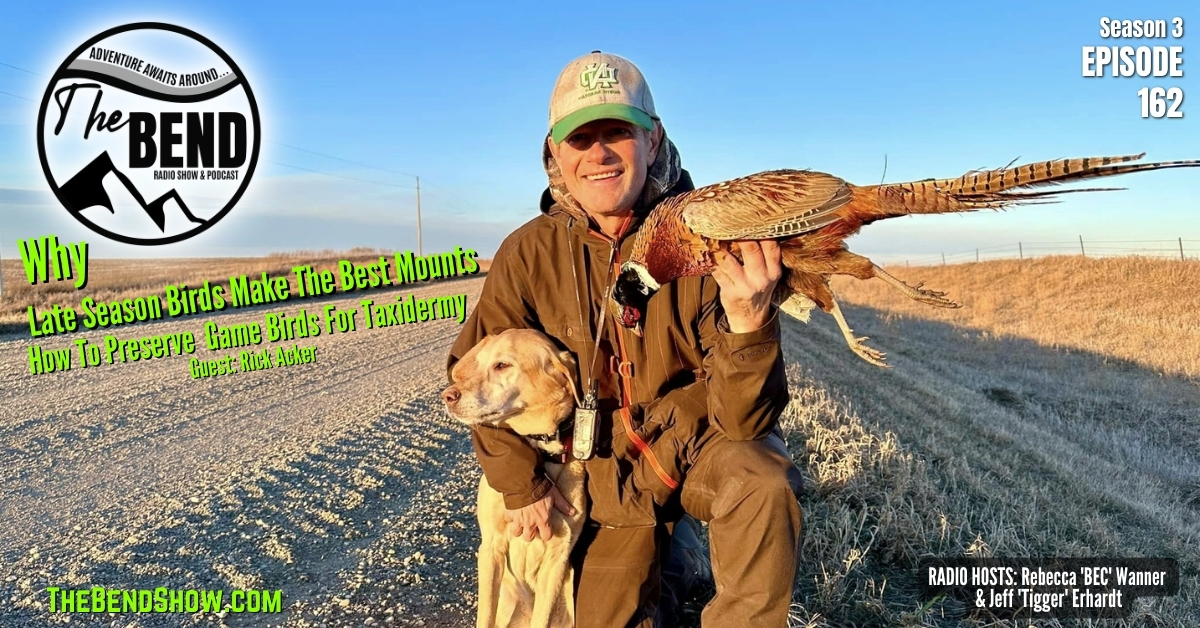 Learn when, how, or what to do for a beautiful game bird trophy taxidermy mount. Gift Idea for men and women, this utility gas, fuel or water can that does not spill.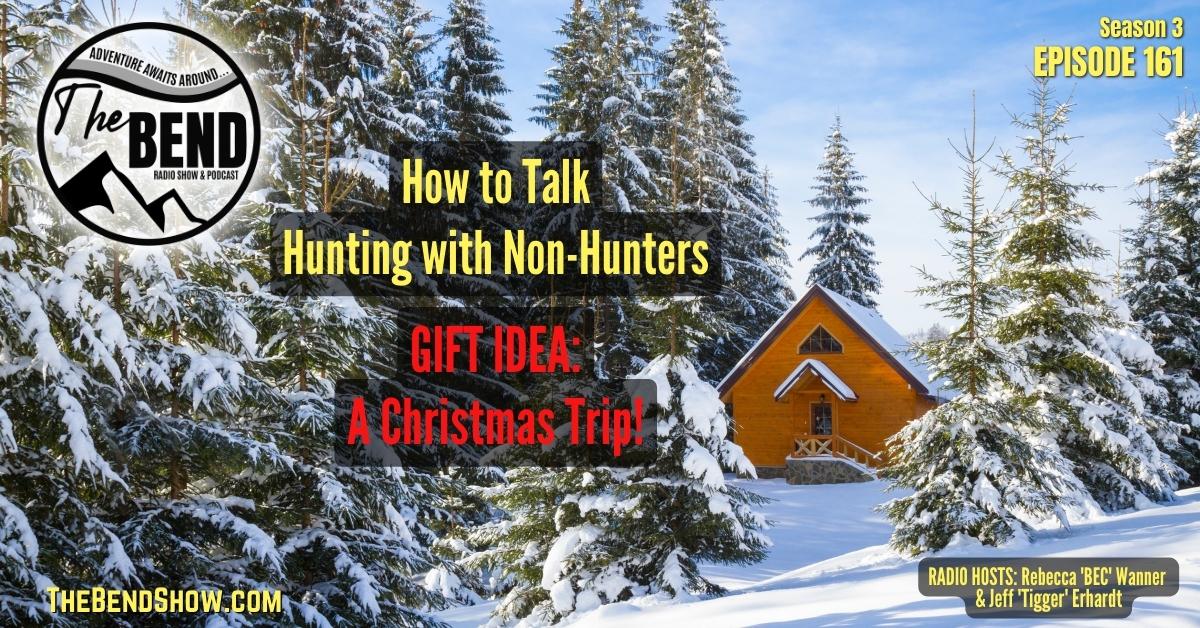 Learn how to talk about hunting with non-hunters. Gift Idea: Gather the family for the Holidays at a central location as a Christmas gift trip.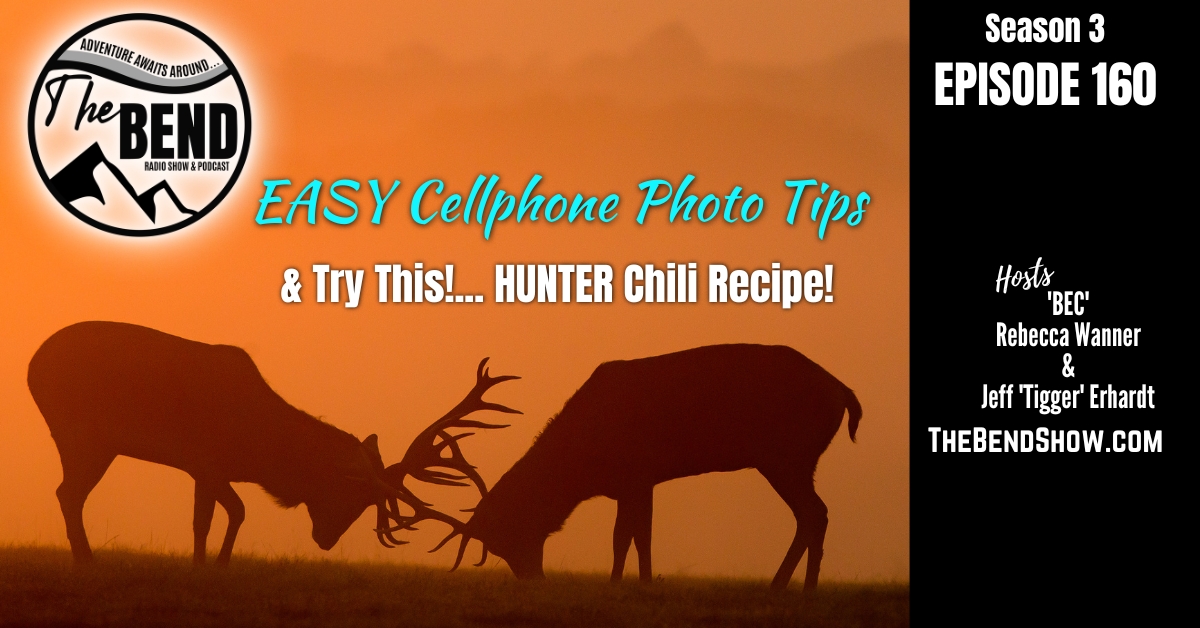 Easy cell phone photo tips for better pictures when outdoors. Hunter Chili Recipe using wild game meat.