Talking Taxidermy. How to make those wildlife trophies; big game to small game, birds to fish, even mountain lions, into works of art. Grace your walls with the memories of a lifetime.
Next, now that we are all in the midst of WARM temperatures, having us all cooking outside; we share the latest 'smoking' trend using bacon. We share the latest in Outdoor News plus have your Travel and Entertainment headlines! This is Rebecca Wanner aka BEC and Jeff 'Tigger' Erhardt with the outdoors show The Bend Show! Be sure to subscribe on your favorite podcasting app or on The Bend Show YouTube channel.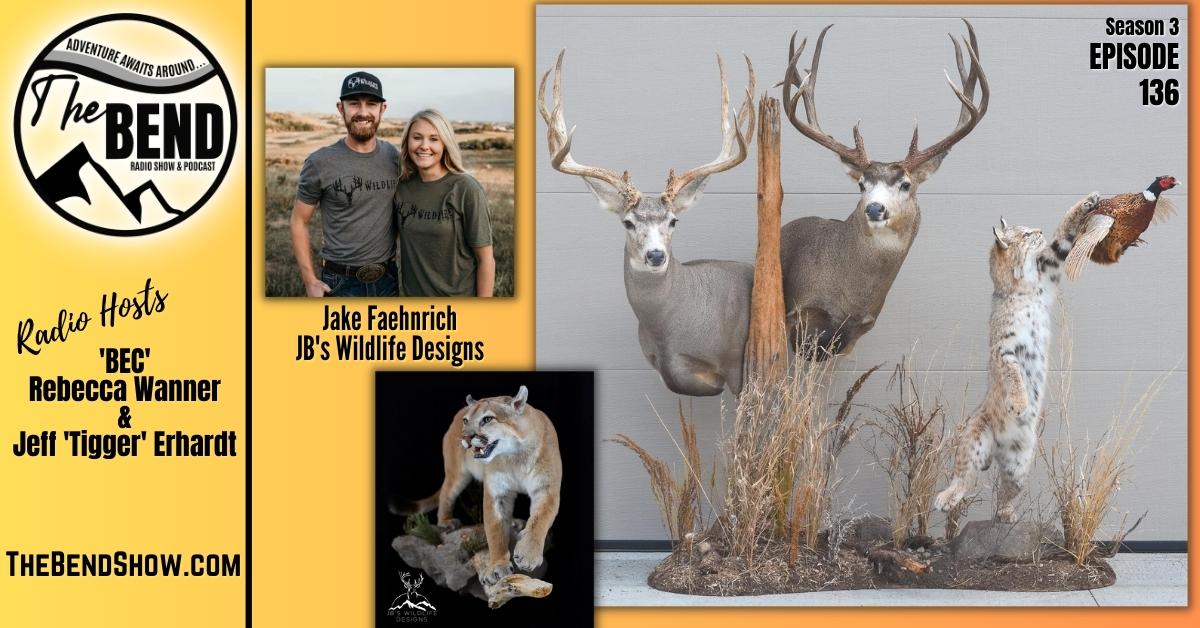 EPISODE DETAILS
Tightlines is what Tigger is bragging about to kick off The Bend Show. Recently BEC and Tigger loaded the kayaks and headed north to a local small fishing lake for a spur-of-the-moment, evening of fishing. As usual with these two, it immediately became competitive. Tigger with his fly rod and BEC using her trusty spinning reel paddled away and started tossing lines. The good news, neither were skunked. Tigger reeled in 33 fish to BEC's small catch of only six. A blast of fun was had landing sunfish, crappie and largemouth bass. The Bend Show kicks off!
SPOTLIGHT
Air Travel. Could these be trends we see elsewhere in the near future? 
Recently an Australian teen was charged $65 dollars for wearing an extra 13lbs of clothing to avoid the overweight luggage charges. Well this tried and true travel hack, that almost all of us have done so when flying, FAILED. The Australian airline still charged the teen for now wearing the extra 13 lbs of clothing the overweight luggage charge of $65. 
So we're telling you this as just in the last few weeks it's been announced that Air New Zealand is now weighing passengers before flights!
The airline has stated that they have added scales to their boarding areas because the data collected helps them improve their load control and are wanting customers to be reassured that there is no visible display anywhere.
We know that there's been a lot of airline issues over the last year; be sure to be keeping a close eye on your flights and small print as we head in various directions in the months to come, and know we will be keeping a close eye ourselves on the Flight Travel News.
NEWS
Cotton Candy-Flavored OREO Cookies 
Hitting the store shelves this week! Hurry though, as the Cotton Candy Flavored OREO cookies are for only a limited time. Perfect timing if you ask us as county fair season begins to really kick off for many! Cotton Candy-Flavored OREO cookies were last available a decade ago… Back in 2013.
Calgary Stampede Rodeo In Canada
The historic Calgary Stampede Rodeo runs this year from July 7th thru the 16th. The Calgary Stampede menu to grace the midway has been released and they want you to remember, in reference to the menu, "It's not something you eat every day. It's something you come to once a year."
New amongst other items throughout is this Hot Dog that is getting all the buzz.
The big-ticket item will be the Jalapeno Cheddar Gut Buster which will set you back $100! The huge 12-inch smoked jalapeno cheddar dog is comprised of elk meat and aged wagyu beef marinated in an aged red wine for five days, sitting on a bed of Bundenerfleisch (which I've never had) on baked red pepper and sun-dried tomato ciabatta bun and topped with cheese, imported german sauerkraut, onions, and bell peppers. Now we know that a few of you that specialize in everything sausage to being grilling masters are thinking… hmm "I need to make my OWN TWIST on this $100 idea" for a hot dog. If you take in the Calgary Stampede, be sure to tag us in your pictures! Tag @thebendshow
World's Fastest Trash Can? 
Never knew there were fast Trash Cans until today! Michael Wallhead, a British Engineer, recently claimed the new world record when his motorized trash can topped out at 55mph beating the old record by 10 mph. The trash can was purchased on Facebook Marketplace for 25 bucks, then $900 was spent souping it up with a Suzuki engine, wheels, axle, gearbox, chassis, and steering column.
TAXIDERMY, A FORM OF WILDLIFE ART
Meet Jake Faehnrich, owner of JB's Wildlife Designs in Mandan, North Dakota. Tigger sits down with this artist to learn what attracted Faehnrich to the art of Taxidermy. We learn of other forms of preserving our trophy animals, fish, and birds. This up-and-coming taxidermist is showing skills that take your breath away. JB's Wildlife Designs has experience in everything from mounts to rugs to painting on the skulls of our harvested trophies. They strive to exceed the expectation of every customer, preserving those moments and memories for a lifetime.
BEC's BARREL OF THE GOOD STUFF
WINE LOVERS – 
BEC found this recent "Personality Study" by Barefoot Wines interesting. So let's see how true this is for you. Does your Wine preference match your personality??
Red Wine drinkers – Introverted… but Like The Outdoors, are Early Birds & love dogs.
Sparkling Wine drinkers – Outgoing & as you guessed Extroverts.
White Wine drinkers – They like being the "Life of the Party", take more selfies, like it "indoors", tend to be night owls, and LOVE cats
Rose' drinkers – little panache there – You tend to be the "Party Planners" of the group, night owls that love dogs… AND are most likely to get a tattoo.
ENTERTAINMENT NEWS
CONCERT ALERT 
There's one concert this summer that might be quite "The Event"…
It's been announced that Guns N Roses at their upcoming August 26th concert in Nashville, TN; Guns N Roses will be joined by Carrie Underwood!! Heck Yay! Come on, you know the lyrics, "Welcome Come To The Jungle…"  We believe this will be an epic concert!
CODY JOHNSON 
The country superstar out of Texas is a former rodeo bull rider, and Cody Johnson also used to work as a prison guard in the Texas State Penitentiary system before deciding to focus on music full-time.
At a recent concert, some fans almost got on the bad side of Cody when they started fighting in the pit right in front of the stage – and this cowboy had to lay down the law.
A viral video posted from his show in Virginia, shows Cody Johnson addressing the rowdy fans, "If you start a fight in this pit I will stop this show and have your a** thrown out."
And this cowboy followed up that warning with, "If you wanna fight, take it somewhere else because y'all bump into one of these kids you'll have me jumping off the stage at your a**."
KENNY CHESNEY

As many fans may or may not know, Kenny Chesney is a huge football fan however recently he revealed that he is torn about performing at halftime of the Super Bowl. Kenny Chesney explained that if he were asked to do the Super Bowl, he would probably say "Yes."
HOWEVER If he was given the choice between all that stress leading up to it, or to sit in a fancy stadium suite with his dad while having a beer . . . He's probably going to do just that.
Priorities. Make those memories with our loved ones while we can, in our opinion, Chesney's figured a lot out about what matters in life.
COOKING TREND
Have you tried this, it's all over social media. Bacon-wrapped Oreos! Oreos are being wrapped in bacon and then coated with different types of salts before placed into a smoker for an hour. Supposedly the cookies come out nice and warm, while the bacon is crisp. Almost hard. Have you tried? What is the craziest thing you've smoked, we want to know! Call Text 305-9002363 or email [email protected] OR tag us on social media @thebendshow.
ATTENTION Foodies out there. Bartolini's Italian Restaurant in Midlothian, Illinois is going viral for their… hope you're hungry… going viral for the "Bartolini's 10-Pound Meatball Sandwich Challenge". Here's the sandwich's description: 5lbs (that's 40) World Famous Bartolini Meatballs, on a 3 foot (1 pound) Turano French Bread with 1.5 lbs of Red Gravy. Topped with 1.5 lbs of Melted Mozzarella Cheese and 1 lb of Roasted Green Peppers. Holy Smokes – Curious the cost, this 10lb Meatball Monster of a sandwich is 75 bucks… AND whoever eats the entire sandwich gets it free!
FIELD REPORTS & COMMENTS
Call or Text your questions, comments to 305-900-BEND or 305-900-2363
Or email [email protected]
FOLLOW Facebook/Instagram: @thebendshow
#catchBECifyoucan #tiggerandbec #outdoors #travel
The Outdoors, Rural America And Conservation are Center-Stage.
AND how is that? Because Tigger & BEC… Live This Lifestyle.
Learn more about Jeff 'Tigger' Erhardt & Rebecca Wanner aka BEC here:
 TiggerandBEC.com
WESTERN LIFESTYLE & THE OUTDOORS
Tigger & BEC represent the Working Ranch world, Rodeo, and the Western Way of Life as well as advocate for the Outdoors and Wildlife Conservation.
Outdoorsmen themselves, this duo strives to provide the hunter, adventurer, cowboy, cowgirl, rancher and/or successful farmer with the knowledge, education, and tools needed to bring high-quality beef and the wild game harvested to your table for dinner. They understand the importance in sharing meals with family, cooking the fruits of our labor and fish from our adventures, and learning to understand the importance of making memories in the outdoors. Appreciate God's Country.
United together, this duo offers a glimpse into and speaks about what life truly is like at the end of dirt roads and off the beaten path.
Tigger & BEC look forward to hearing from you, answering your questions and sharing in the journey of making your life a success story. Adventure Awaits Around The Bend.
The Bend is a Nationally Syndicated Radio Show
Hear The Bend Show on SiriusXM, Public AM / FM Radio
AND on Your Favorite Podcast App Player!
iTunes, Spotify, iHeart, Alexa, Pandora & More!
More Episodes For You To Catch!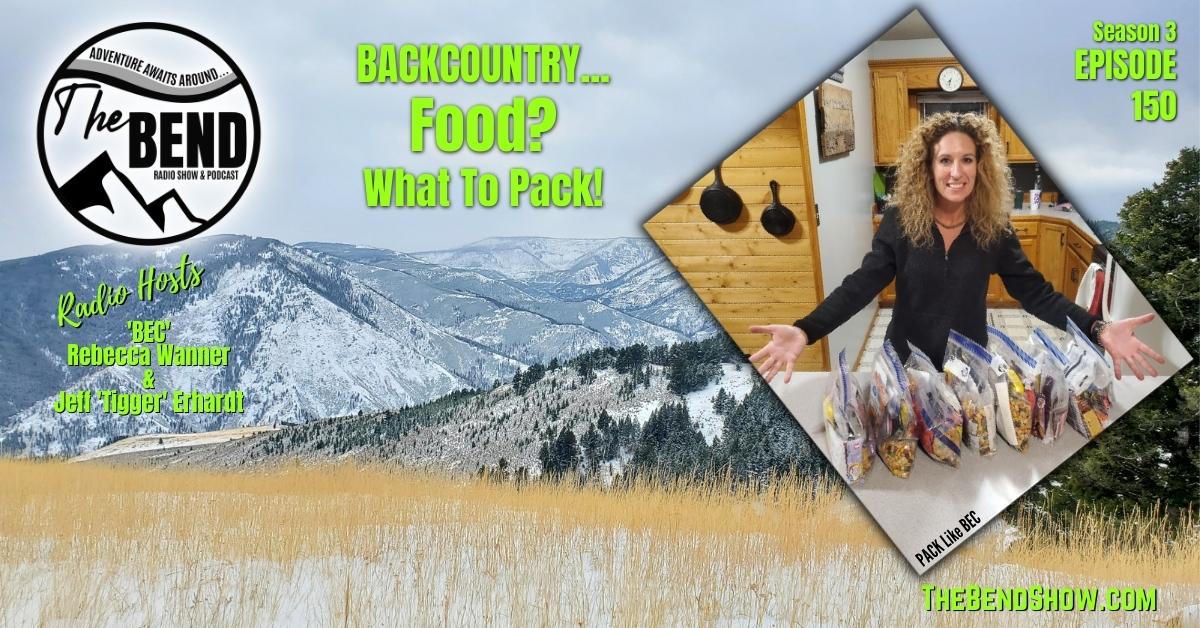 What food to backpack on hunting, fishing, or camping trips, and how to stomach freeze-dried foods while staying healthy. History of J.B. Mauney's bull riding career.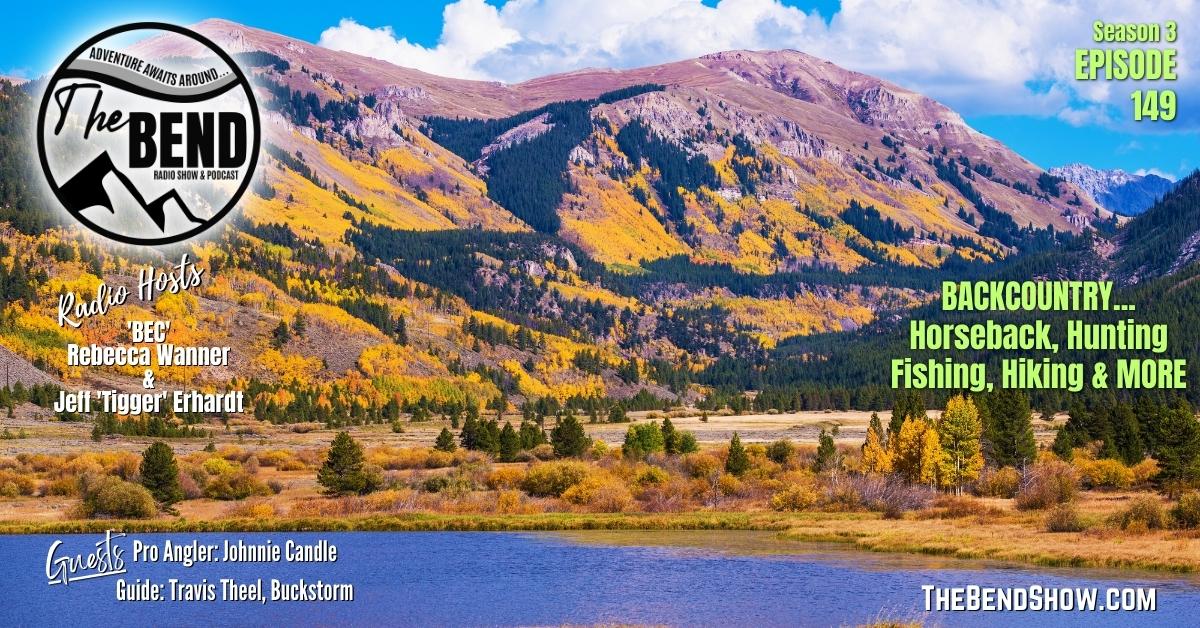 What to know before Backcountry Hunting, Horseback riding or Hiking the mountains. Tips for fall walleye fishing from pro angler Johnnie Candle.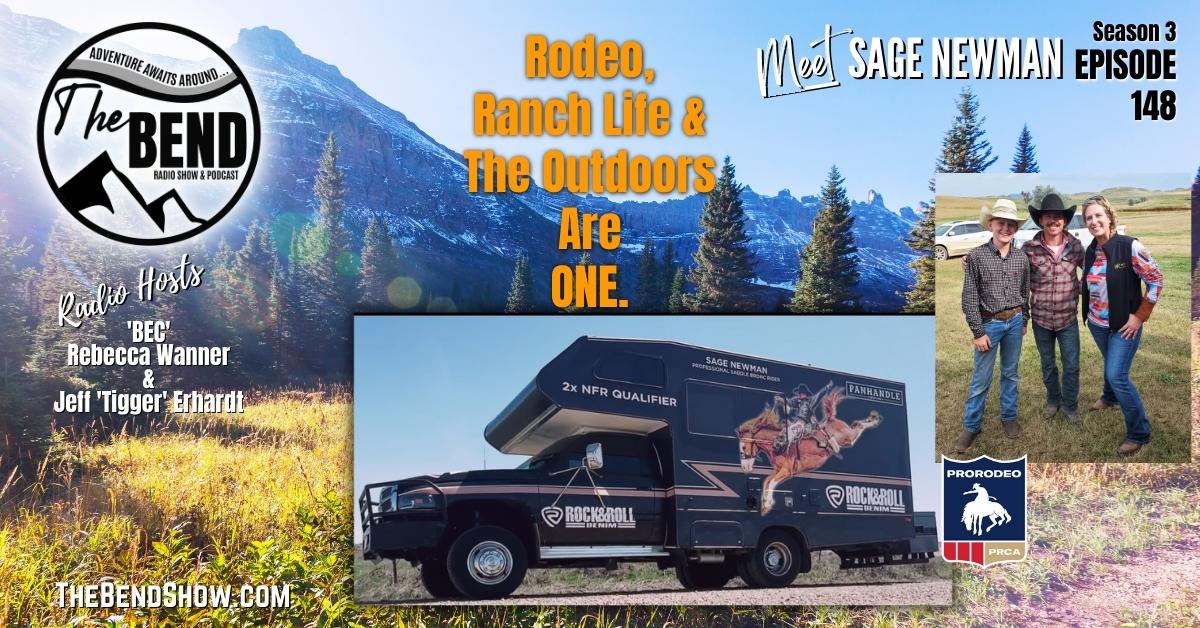 What is the Western Lifestyle? Learn how rodeo, ranching, the outdoors are all part of the Western Lifestyle. Learn backcountry hunting tips. Youth Major League Fishing.